The demand for LED chipsets is forecast to increase substantially up until 2018 with demand for lighting taking over from display backlighting as the source of demand, according to DisplaySearch. DisplaySearch is a market analysis organization that was recently acquired by IHS Technology, the publisher of Electronics 360.
Demand for LED chipsets, measured in standard die area units of 500-micron by 500-micron, is expected to increase from 35.8 million units shipped in 2013 to 1.4 billion units shipped in 2018. This represents a compound annual growth rate in the units shipped in excess of 100 percent, which means the market is more than doubling in volume each year.
The supply in 2014 was about 140 million units and is set to be 160 million units in 2015, according to DisplaySearch data.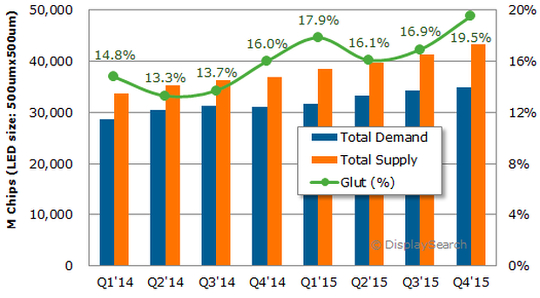 LED Chip Demand for Backlights and Lighting. Source: DisplaySearch.
In 2014 the LED market became more integrated from chip to channel, as competing companies merged and supply-chain companies acquired LED industry companies. "The LED chip industry is expected to fare better than the LED package industry, as demand for lighting continues to increase through 2018," said DisplaySearch analyst Steven Sher, in a statement.
Chipset demand for LCD TV backlights is low due to sluggish TV demand and improved efficiency where fewer chips are used per backlight. Global demand for chipsets used for display backlighting flattened after 2012 and a slow decrease is forecast after 2014.
Related links and articles:
Quarterly LED Lighting and Display Supply/Demand Report
News articles:
Cree Rolls High-Power Lighting LEDs
Carbon Nanotubes Make Planar Light Source
OLED Lighting Gaining Ground on Inorganic LEDs
ON Semi Expands LED Lighting Component Portfolio