Light emitting diodes (LED) have made a splash in indoor lighting wherever it makes economic sense. Now, Street Lighting is attracting LEDs as a more efficient alternative to lighting technology in the outside environment.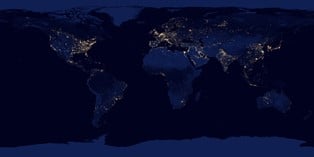 Lighting pollution around the world.Currently, street lighting using high-intensity discharge lamps provide the greatest amount of photopic illumination (the vision of the eye under well-lit conditions) for the least consumption of electricity.
However, according to industry experts, white light sources have clear advantages over these discharge lamps. For instance, they have been shown to double driver's peripheral vision and improve driver's brake reaction time by at least 25%; they also provide pedestrians to better detect pavement trip hazards,and makes it easier to make visual appraisals of other people.
According to the latest market watcher NPD DisplaySearch, high-power LED demand will increase from 18.5 billion in 2014 to 27 billion in 2017. Shipments of high-power LED chips used in streetlights, direct backlit LCD displays, spotlights, and other applications that require higher brightness are expected to grow at a compound annual growth rate (CAGR) of 13% between 2014 and 2017.
"The LED lighting source makes up a small part of the total material costs, and that is driving growth in high-power LED shipments," says Steven Sher, LED research analyst at NPD DisplaySearch. "Demand for energy-efficient, brighter lighting continues to grow, as energy costs rise. According to Sher, only a few big LED component makers will continue to dominate the market including Philips Lumileds, OSRAM and Cree.
Municipal application
As cities grapple with rising energy costs and shrinking budgets, many are looking for ways to reduce expenses. According to the Department of Energy, the cost of energy consumed by HID (high intensity discharge) street lights can account for as much as 40% of municipal electric bills, thus the upgrade is a good opportunity to reduce energy expenses. .
Streetlight control systems have been developed to reduce energy consumption, ranging from controlling a circuit of streetlights and/or individual lights with specific ballasts and network operating protocols. Instructions for control are transmitted via separate data networks, or at high frequency over the top of the low voltage supply or wireless.
A number of companies are now manufacturing intelligent street lighting enabling light output to be adjusted according to usage and occupancy by lighted object such as pedestrian versus cyclist, versus vehicle. The sensing can also be used to illuminate a certain number of streetlights ahead and fewer behind, depending on the velocity of movement. The lights can also be adjusted depending on road conditions, for example, snow produces more reflectance therefore less light is required.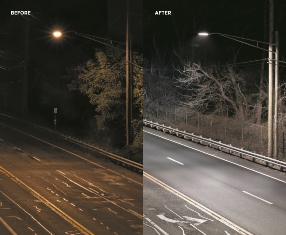 Smithtown, NY (Long Island).Smithtown (Long Island, NY) is using a $1 million Energy Efficiency and Conservation Block Grant (EECGB) to convert nearly 10% of the town's 11,600 streetlights from high-pressure sodium (HPS) to more energy efficient LED luminaires.
Upgrading 1,100 lights to LED will save the Smithtown $75,000 in maintenance costs and $150,000 in energy expenses annually, according to officials.
In another application, The City Of Davis, Calif. is field-testing a network-controlled LED street lighting system replacing 12 HPS fixtures with LED streetlights and retrofitting 14 existing LED fixtures with dimming capabilities and controls.
Per the initial system commissioning, the LED streetlights use 94 watts at full brightness and just 23 watts during vacant periods when energy waste and light pollution can be curbed without compromising safety or comfort.
From about 100 experienced manufacturers of LED streetlights in the world, less than 10 are able to produce high-quality LED street lamps with the highest quality standards, according to industry experts.
An upcoming conference in October on street lighting will shed some light on efficient implementations in this growing field.
For more information on the conference please visit: http://www.ies.org/salc/program.cfm
Questions or comments on this story? Contact engineering360editors@ihs.com