Researchers at the University of California Los Angeles (UCLA) have improved the method of manufacture for the thin-film transistor backplane that is a fundamental part of the liquid crystal and organic light emitting displays that provide the images on almost all electronic equipment.
Let by Professor Yang Yang at the Henry Samueli School of Engineering and Applied Science at UCLA, the team has created a high-performance transistor that can be produced without requiring a clean room or the expensive equipment now commonly in use.
The thin-film transistor backplane controls the brightness at each pixel. The film needs to be transparent and amorphous silicon-based TFTs are a popular choice for LCDs even though they have lower mobility than monocrystalline silicon.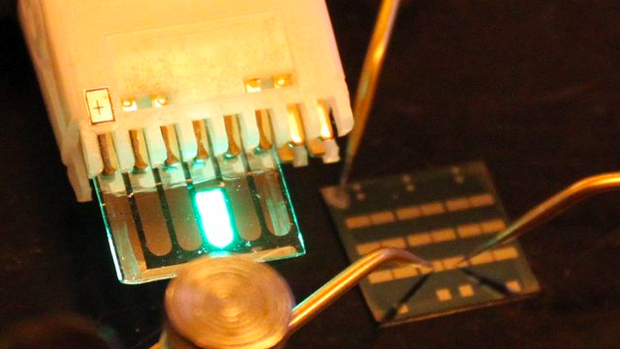 Easier-to-make high-mobility TFT developed at UCLA. Source: UCLA.
The UCLA-developed product, is a non-silicon amorphous oxide semiconductor TFT, offers mobility that is 10 to 20 times greater than that of an amorphous silicon-based TFT. The device is composed of indium gallium zinc oxide (IGZO) and indium tin zinc oxide (ITZO) and has channels that are designed differently than those in other TFTs.
IGZO TFTs were originally developed at the Tokyo Institute of Technology and the Japan Science and Technology Agency and have licensed to Samsung in 2011 and Sharp in 2012.
However, as well as being a slightly different material mix the UCLA manufacturing method is different.
Currently, amorphous oxide semiconductor TFTs are prepared by a process that requires a large vacuum chamber and a costly coating procedure. UCLA researchers used a solution process, akin to applying a coat of paint to an object and then baking it in an oven.
"Our semiconductor process is faster, less expensive and more reliable than existing processes," said Yang, a professor in the school's materials science and engineering department and a member of the UCLA California NanoSystems Institute.
"The improved mobility represents a breakthrough for solution-processed metal oxide TFTs," said You Seung Rim, a postdoctoral researcher in UCLA's materials science and engineering department and the lead author of the research. "Our device's performance is comparable to that of commercial TFTs, but it can be produced at a much lower cost."
The research was published April 17 in the peer-reviewed journal Advanced Materials.
Related links and articles:
News articles:
Struggling Display Maker Sharp Expands Supply Deal with Samsung
Sharp Misses Qualcomm Deadline for IGZO Displays