The merger of the two of the leading vendors of semiconductor manufacturing equipment – Applied Materials Inc. and Tokyo Electron Ltd. – into a $29 billion entity called Eteris BV is being delayed by yet another quarter and will not now take place in 2014.
The planned merger was announced in September 2013 and at that time was expected to close in the second half of 2014 after undergoing antitrust and regulatory scrutiny.
However, Tokyo Electron has announced that the date for a key share exchange to take place that is a technical part of the creation of Eteris as owner of both Applied Materials and Tokyo Electron has been moved back from December 30, 2014 to March 24, 2015. The date had already been moved back once, from September 24, 2014 to December 30.
Tokyo Electron is now expected to delist from the Tokyo Stock Exchange on March 19, 2015. The company stressed that the latest set of dates in March 2015 are not final and may be subject to further revision.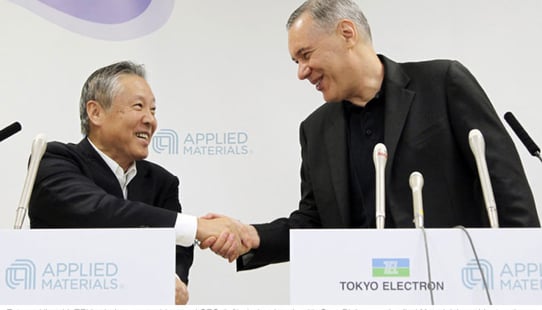 Testuro Higashi, Tokyo Electron's chairman, president and CEO shakes hands with Applied Materials' president and CEO Gary Dickerson on the announcment of the merger deal, Sept. 24, 2013.
Scrutiny of the deal by several countries, including China, Japan and the United States is taking longer to review the proposed merger, than had been expected. It is not yet clear whether the merger is subject to specifications or a desire to block the merger by any of the regulatory authorities.
In a conference call with analysts to discuss Applied Materials' quarterly financial results CEO Gary Dickerson said the German competition authority has given unconditional approval for the deal. "We are working hard to obtain the remaining approvals as soon as we can. However, we acknowledge that the closing could move into the first quarter of next year," Dickerson told the analysts. He also said he had been advised not to answer questions about ongoing discussions with competition authorities.
Tokyo Electron said in a statement that the change in the share exchange date and Tokyo Electron's delisting from the Tokyo Stock Exchange would not impact the company's financial results for the current fiscal year, which ends March 31, 2015.
The deal was billed in 2013 as a "merger-of-equals" although Applied Materials will end up with 68 percent of the combined company and Dickerson will become CEO of the combined company.
The merger is seen as a response to the dramatic reduction of players at the leading-edge of semiconductor manufacturing. The number of companies able to commission R&D and order leading equipment has reduced dramatically in recent years to about a dozen across the logic, memory and foundry chip sectors.
Related links and articles:
IHS semiconductor manufacturing research
News articles:
Applied-TEL Merger Faces Regulatory Scrutiny, Other Hurdles
Semi Equipment Makers Applied Materials, TEL to Merge