The three-month average of orders for semiconductor equipment in June increased 4.3 percent compared to May and 10 percent compared to June 2013, according to trade association SEMI.
Worldwide chip equipment bookings in June 2014 totaled $1.47 billion, up from $1.41 billion in May. In June 2013, equipment orders totaled $1.33 billion, the association said.
The three-month average of worldwide billings in June 2014 was $1.34 billion, which was 4.8 percent lower than the May level of $1.41 billion. However, billings in June were 10.4 percent higher than June 2013 billings when sales were $1.21 billion, said SEMI.
"Semiconductor equipment bookings are at the highest level since May 2012," said Denny McGuirk, president and CEO of SEMI, in a statement. McGuirk said June's strong bookings "substantiate the outlook for strong double-digit sales growth this year."
SEMI has forecast 20.8 percent growth in equipment revenue in 2014. Revenue will rise from $31.8 billion in 2013 to $38.4 billion in 2014, according to the trade group. In 2015 equipment revenue will increase 10.8 percent to $42.6 billion, SEMI said.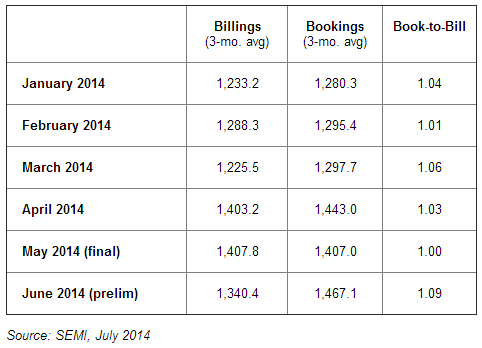 Driving double-digit growth in equipment spending are investments by chipmakers in sub-20nm technology, expansion of advanced packing technology capacity and DRAM technology upgrades for mobile applications, among others.
The equipment book-to-bill ratio was 1.09 in June, up from 1.00 in May. A ratio of 1.09 means equipment manufacturers received $109 in new orders for every $100 of orders that they shipped in June. At 1.09, the ratio is highest that it has been all year. The previous highest ratio for the year was 1.06 in March.
The SEMI book-to-bill is a ratio of three-month moving averages of worldwide bookings and billings for North American-based semiconductor equipment manufacturers.
Related links: