Intel has tipped that the company will use a 256-Gbit 3D-NAND non-volatile memory to make solid-state disk drives (SSDs) in the second half of 2015. However, the capacity could be expanded to 384-Gbits if triple-level cell (TLC) storage is used at each memory site.
The capacity of the memory, developed jointly with Micron Technology Inc., leapfrogs the 128-Gbit 3bit per cell vertical NAND memory that Samsung Electronics has said was in production in October 2014. However, by the second half of 2015 it is expected that Samsung will also have progressed its V-NAND technology.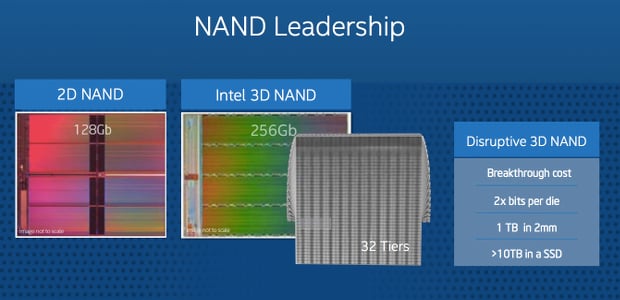 Intel and Micron are going 3D-NAND across 32 layers. Source: Intel.
Rob Crooke, general manager of the non-volatile memory group, tipped the development as he spoke at an analysts' conference held in Santa Clara, Calif. last week.
Intel's 256-Gbit NAND flash memory will likely be used for solid-state disk drives (SSDs) as Intel is more interested in being a supplier of "platforms" than components. In his presentation Crooke showed that Intel NAND memory sales will be more than 90 percent by value as part of an SSD and component sales will make up less than 10 percent of Intel's NAND flash memory sales. This is a turn around from 2009 when the percentages were the other way around.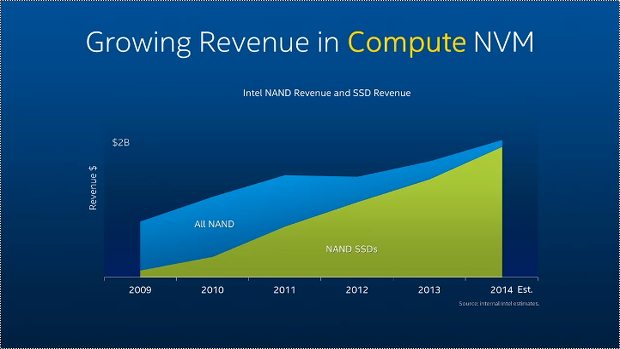 Intel the system/subsystem company. Intel doesn't sell many NAND chips outside SSDs. Source: Intel.
Crooke said the forthcoming memory has minimum geometries relaxed from the 20nm and below required to make 128-Gbit planar flash memories. The 3D-NAND uses a 2-bit multilevel cell (MLC) and that will be extended to triple level cell (TLC), extending the monolithic memory capacity to 384-Gbits, Crooke said SSDs based on the memory are already available in prototype form, he added.
"We plan on building 10-plus terabyte SSDs within the next couple of years," he said.
The chips will be made by Intel Micron Flash Technologies LLC (Lehi, Utah), Intel's memory manufacturing joint venture with Micron Technology Inc. IMFT's wafer fab in Lehi, Utah, is running 20,000 wafer starts per week but Crooke added that Intel also has a manufacturing relationship with SK Hynix. "We need to be able to expand quickly for our customers. And if it makes sense we can bring the technology inside and manufacture inside of Intel," he added.
It is not clear whether Intel is getting first access on the 3D-NAND chips that are coming from its joint development with Micron. Micron's CEO Mark Durcan had previously has said he expects Micron's 3D-NAND to be in the market at the end of 2014 but that the market will not really take off until the second half of 2015 and possibly even later than that.
Related links and articles:
News articles:
Micron Holds Back 3D-NAND Samples
Samsung Takes V-NAND to 3-bits Per Cell
SMIC Develops Flash Process As Step To 3D-NAND
Toshiba Begins 3D-NAND Fab Construction