Memory chip company Micron Technology Inc. has broken ground on a $4 billion expansion of its Fab 10 NAND flash memory fabrication facility in Singapore, targeting production in 2017.
Micron's move lags those by rivals in preparing for the expected wave of 3D-NAND memory demand. Toshiba began construction of a wafer fab at its Yokkaichi site in Japan six months ago with a view to bring 3D-NAND process technology up in time for chip production in 2016. Samsung is already in production of its own V-NAND (for vertical NAND) memories.
Micron (Boise, Idaho) is planning to roughly double clean room size at its Fab 10 with a 255,000 square foot addition that will be used for production of 3D-NAND non-volatile memory chips. Micron said it plans to add production capacity incrementally in response to market requirements.
"Micron enjoys a strong relationship with Singapore where we employ more than 7,000 team members operating at four major facilities," said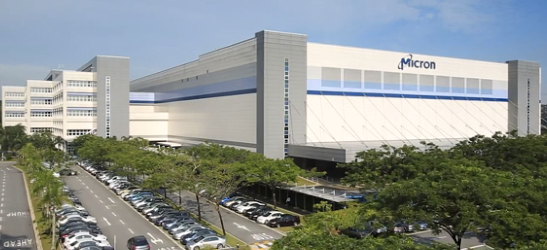 Micron is set to expand its manufacturing center in Singapore, the company's largest. Micron's involvement in Singapore dates back more than two decades. Singapore is Micron's largest manufacturing center, with three wafer fabs, a test and assembly facility and a technology center supporting innovation across the company. Micron employs more than 7,000 people in Singapore.
Initial manufacturing output from the expanded facility is expected in the fiscal 2017 year, which is set to run from September 2016.
Micron anticipates spending about $50 million in fiscal 2015 for initial design and construction of the fab expansion. The $4 billion estimated total cost will be spread over multiple years, starting in the company's fiscal 2016. Micron's capital expenditure guidance for fiscal 2015 remains unchanged at $3.6 billion to $4 billion.
Questions or comments on this story? Contact: peter.clarke@globalspec.com
Related links and articles:
News articles: