Flash-based storage supplier SanDisk Corp. (Milpitas, Calif.) has said that it continues to make progress with the development of its BiCS (Bit-Cost Scalable) 3D NAND technology with production volume expected in the second half of 2015.
SanDisk CEO Sanjay Mehrotra, speaking to analysts on a conference call to discuss the companies first quarter financial results, said the shell of a wafer fab module to contain a 3D NAND pilot line should be complete by mid-year. But he also said that the bulk of the output of from that module would be 1Y and 1Z planar flash memory.
Mehrotra provided no details of how many layers the production version of BiCS 3D NAND would include or whether it would involve a relaxation of the critical geometry. The BiCS technology – being developed with SanDisk's manufacturing partner Toshiba – is usually shown with 16 layers. It supports a U-shaped transistor string, which would provide a convenient 32-bit word length.
The move to 3D-NAND leverages existing NAND fab infrastructure and does not need extreme ultraviolet (EUV) lithography, which 2D scaling would. However, some observers have argued that the conical nature of the vertical channels makes only a limited number of layers possible before the memory cells on have to be spaced out defeating the purpose of the exercise. This could limit the adoption of 3D-NAND technology or even encourage the move to ReRAM technologies that hold out the prospect of scaling below 10nm and would therefore allow further planar scaling and in the Z direction.
In late 2012 Toshiba announced that it had 16-layer prototype BiCS devices based on a 50nm diameter vertical channel. In 2013 Samsung Electronics announced a 128-Gbit vertical NAND flash memory with 24-layers that had die area approximately the same as that for a 2D NAND flash memory of the same capacity made using mid-10nm-class process technology. That was thought to be in an approximately 50nm or 45nm process although this was not confirmed by Samsung at the time.
Meanwhile SanDisk is ramping its 1Y generation for 2D NAND production. SanDisk's 1Y node is on the same 19nm minimum geometry as the 1X node but achieves a 25 percent reduction of the memory cell area through improved lay out techniques. Mehrotra said that he expects about half of SanDisk's "bit-supply" output to be on 1Y in the second quarter of 2014. "By the end of the year we expect around two thirds of our total bit production to be in 1Y technology," he added.
This will be the time when SanDisk starts to ramp its 1Z process generation, which the company has confirmed will be on reduced geometry. This is likely to be 16nm or 15nm. "Our 1Z technology continues to show promising early results, and we expect product ramp to begin towards the end of 2014," Mehrotra told the analysts.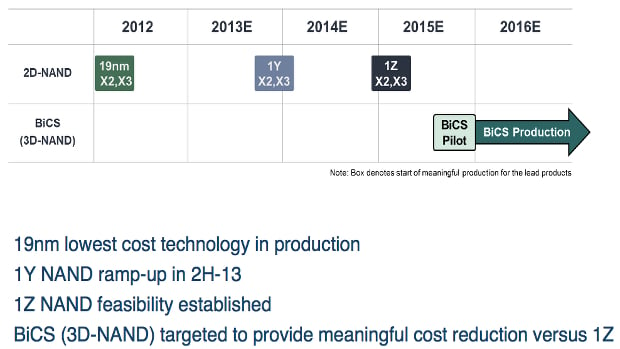 SanDisk Flash memory roadmap. Source: SanDisk presentation at Flash Memory Summit
Mehrotra said the shell for phase 2 of Fab 5 at Toshiba's Yokkaichi facility in Mie, Japan, is on track to be completed in mid-2014 with production due in 2H15. However, he said the facility would mainly be used for 1Y and 1Z wafer capacity. Phase 1 of Fab 5 is expected to be fully utilized making 1Y memories in 3Q14, he said.
When asked if memory vendors are struggling with 3D NAND in terms of the number of layers it can scale to and cost structure for manufacturing Mehrotra said: "You know certainly 3D NAND in the industry for in terms of percentage of bit production will be very-very small in 2014 and will be very small in 2015 timeframe as well. Our timeline for 3D NAND production for pilot line in second half of 2015 and then ramping production in 2016 timeframe, our timeline stays the same."
SanDisk made a net profit of $269 million on sales revenue of $1.51 billion in the first quarter of 2014. Sales were up 12.8 percent compared with the same period a year before and profit increased by 62 percent.
Related links and articles:
News articles:
Engineer Arrested as Hynix Sued Over NAND Secrets
3D is Key to Next-Generation NAND Flash
SK Hynix Pushes 16-nm NAND to 128-Gbit