Contract manufacturers of notebook computers suffered a worse-than-expected first quarter after shipments to clients including Apple Inc. and Hewlett-Packard Co. tumbled to the lowest level in three years, according to IHS.
Global shipments of notebook computers from original design manufacturers (ODM) from January through March totaled 33.2 million units, down a sharp 17 percent from 40.1 million units posted during the final quarter last year. The steep loss in the first quarter marked a reversal from the increase in shipments of the fourth quarter. The latest figures are also down compared to the same quarter last year.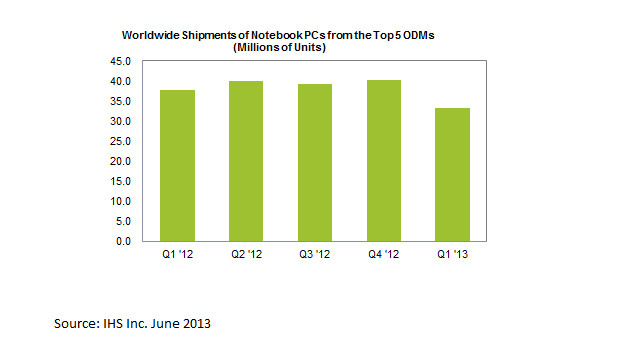 Overall, the decline in the first quarter was 4 to 5 percentage points lower than what had initially been forecast, confirming an even more debilitated market. The notebook ODMs—all based in Taiwan—boast of an illustrious roster of clients that includes not only Apple and HP but also Dell, Samsung, Lenovo, Acer, Asus and Toshiba.
"Many factors conspired to knock the legs out from under the ODM notebook PC market—such as economic weakness in major markets and the clearance of older models from inventory," said Peter Lin, senior analyst for compute platforms at IHS. "However, notebook ODMs and their brand-name customers also are contending with the robust competition in the consumer market coming from smartphones and tablets."
Quanta
Among the ODMs, Quanta Computer was hardest-hit, down 27 percent on the quarter. As a result, Quanta lost its No. 1 ranking as the top notebook ODM to archrival Compal Electronics. Quanta receives orders from all the major global brands, including Apple, HP, Lenovo, Dell, Acer, Asus, Toshiba, Sony and Fujitsu, but the conservative purchasing practices during the quarter by its clients Acer, Asus, HP and Apple contributed to Quanta's woes.
For its part, Compal regained the No. 1 ranking after losing the peak to Quanta. Compal's quarterly decline was the lowest among the Top 5 at 7 percent, thanks to relatively stable notebook PC shipments to clients like Lenovo and Dell.
For the three other top 5 ODMs, the drop in shipments ranged from 9 percent for Inventec (4th place), to 16 percent for Wistron (3rd place), to 21 percent for Pegatron (5th place).
Second quarter hopes
Moving forward, ODM notebook shipments are expected to improve in the second half of the year as lower-priced ultrathin PCs with new touch-enabled features become available on the market, along with the release of a more powerful microprocessor from chipmaker Intel. Microsoft will also be lowering the license fee for Windows 8 on notebooks with a screen size of 11.6-inches or less, adding to incentives for consumers to buy new laptops.
A problem is the timing in release of products by both Intel and Microsoft, which haven't issued their offerings on the same timetable. The introduction of Windows 8 last year, for instance, did not match Intel's launch of its Ivy Bridge and Haswell processors, and a similar pattern of disconnectedness between the foremost chipmaker and the leading PC software builder appears set to reoccur as both companies prepare to release updated or new offerings for this year.