Fuzhou Rockchip Electronics Co. Ltd. (Fuzhou, China) has announced that it is selling an two-chip processor with 3G communications, for use in entry-level Android tablet, phablet and smartphone equipment. The chipset is the result of collaboration with Intel but it has yielded an ARM-based design rather than a win for Intel's Atom processor core.
The two-chip application processor and baseband has a single part number XMM6321 and is the first result of a collaboration initiative with Intel announced in May 2014 (see Intel Partners With Rockchip For Tablet Push).
The XMM6321 – jointly developed by Intel and Rockchip – covers the XG632 chip, an ARM-based application processor that integrates Intel's 2G/3G modem, and the AG620, which is an Intel/Infineon chip that provides communications, RF, analog and power management functions.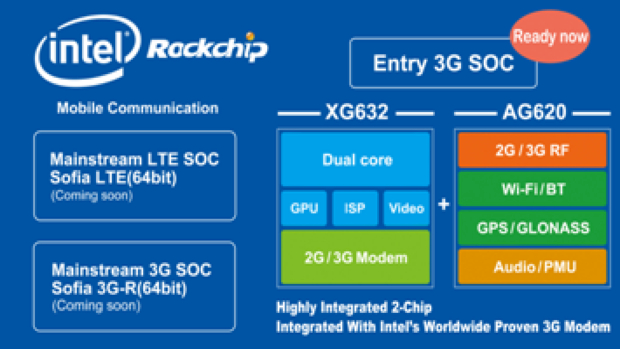 Intel, Rockchip not shouting about ARM Cortex dual-core in the XG632. Source: Rockchip.
Apparently Atom-based Sofia mobile chipsets will have to wait until next year and fully integrated single-chip 4G/LTE modem plus application processor solutions may have to wait even longer, putting Intel significantly behind mobile processor market leader Qualcomm and its Snapdragon line of application processors.
Rockchip plans to launch the quad-core Sofia 3G and Sofia LTE chips in the first quarter of 2015 an these will adopt 64-bit CPU core and be optimized for Android v5 Lollipop platform. These are expected to drop the ARM cores and feature Intel Atom processor cores.
But for now Intel is stuck working with arch-rival ARM. Rockchip said the XMM6321 provides a "lowest-cost, fastest-to-market" platform for entry-level equipment and that competing solutions require three to five ICs to achieve the same functionality.
The XG632 includes a dual-core Cortex-A5, GPU, image and video processor cores and Intel's 2G/3G baseband modem. Although labeled as a Intel part it was manufactured for Intel by foundry Taiwan Semiconductor Manufacturing Co. Ltd. (TSMC).
Back in May at the announcement of the deal Brian Krzanich, Intel CEO, said early designs would be made at TSMC but towards the end of 2015 and into 2016 the designs would move to Intel wafer fabs. However, it was also said that the alliance with Rockchip was intended to help Intel get design wins for its Atom processor core and modem technology acquired when Intel bought the wireless business unit of Infineon Technologies AG.
The Intel-Infineon AG620 includes 2G/3G RF, Wi-Fi, Bluetooth, GPS/GLONASS, audio and power management functions. The baseband technique is worldwide certified. OEMs adopting the solution could use any of four supported frequency bands.
The chipset is targeting Android devices with displays of between 3.5 and 7-inch diagonal size but could also be used in set-top boxes and wearable equipment Rockchip said.
"The XMM6321 significantly reduces 3G device product costs which can significantly reduce market prices for these devices. This new Rockchip SoC will be a cornerstone for new levels of global 3G product popularization," said Yanyan Xing, a brand manager at Rockchip, in a statement.
The application processor operates at 1.0GHz and supports displays of 1024 by 600 pixels at 30 frames per second. Camera support is for 8-megapixel sensor on the front and 3-megapixel sensor on the rear. Android operating system support is for 4.4 KitKat or higher.
Related links and articles:
News articles:
Intel Partners With Rockchip For Tablet Push
Will Expediency Make Intel an ARM Mali Licensee?
Intel Recruits Qualcomm Exec to Help With Mobile
Intel Buys Into Mobile With Spreadtrum Spend