The semiconductor industry in China is at a crossroads, and the fact that companies such as HiSilicon Technologies Co. Ltd and Spreadtrum Communications are launching cutting-edge chips in competition with silicon behemoths like MediaTek Inc. and Qualcomm Inc. just shows how far China's system-on-chip (SoC) underdogs have come. Intel Corp.'s high-profile entry into China's SoC scene further gives credence to the country's ambitions to create an IC powerhouse.
An awakening of sorts about China's ascent in the SoC world came in February, when ARM announced its latest processor design for smartphones. The British intellectual property firm mentioned three SoC makers that would license its upcoming Cortex-A72 processor core: MediaTek, HiSilicon and Fuzhou Rockchip Electronics Co. Ltd. The names of HiSilicon—the chip division of Huawei Technologies—and Rockchip earned more media mileage than the technical nitty and gritty of ARM's next-generation 64-bit CPU technology.
A month later, in March, The Wall Street Journal reported on International Business Machines Corp. (IBM) licensing its Power8 microprocessor technology to China's Suzhou PowerCore Technology Co. IBM's OpenPower program will allow Suzhou PowerCore to produce chips for the China-based computer manufacturer Zoom Netcom for its new line of servers, called RedPower.
Next up, there are Intel and its SoC ambitions for smartphone and tablets sandwiched between these two processor core stories. Intel's China SoC story isn't a small one, either. The world's largest chipmaker recently inked two high-profile deals in China's increasingly crucial semiconductor market.
First, in May of last year, Intel signed a strategic partnership with Rockchip in which the two companies would jointly launch a smart or feature phone based on the Intel Architecture (SoFIA) SoC device featuring four Atom cores and an Intel 3G modem that it acquired from Infineon's communications unit back in 2010. Rockchip, which has shipped about 40 million SoCs for tablet makers in China and Taiwan, became the first company to license Intel's x86 CPU and got the 3G baseband socket as part of the deal. In return, Intel gets deeper access to China's tablet market, with a side benefit of gaining SoC designers in China to work on mobile x86 designs.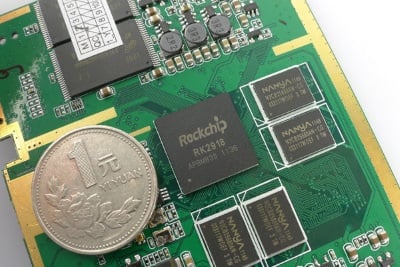 Rockchip is a licensee of both ARM and x86 platforms.In September of 2014, Intel invested $1.5 billion to purchase a 20% stake in China's two large SoC houses—Spreadtrum and RDA Microelectronics—through Tsinghau Unigroup, a private equity firm that owns the two chip companies and is affiliated with the Chinese government. Both Rockchip and Spreadtrum are working on Intel-based SoC designs that expect to materialize later this year.
"Intel is continuing to work closely with Rockchip and Spreadtrum to expand the breadth and accelerate the rate at which we bring Intel architecture and communication solutions to the global entry and value mobile market," says an Intel spokesperson based in Hong Kong. "More details to follow at a later date."
Recently, Intel CEO Brian Krzanich has expressed hope that his new chip partners in China will eventually migrate from ARM to x86 architecture over the next few years because they lack resources to simultaneously handle and sustain work on two processor architectures. Francis Sideco, senior director for consumer, mobile and IT electronics at IHS, agrees with the notion that it'll be hard for China's SoC makers to sustain multiple architectures and still stay competitive both technically and financially.
"Except in some rare situations, it is likely that they'll need to pick one," Sideco says. "Whether they pick ARM or x86 will be based on each SoC maker's strategic vision, core competencies and customer opportunities."

Francis Sideco
Betting on IP
Two fundamental shifts in China's semiconductor landscape have taken place over the past few years. First, China is no longer insisting on developing domestic versions of global standards to avoid paying licensing fees or royalties. Moreover, China's leading chipmakers are now more inclined to follow the international norms in their quest to develop world-class SoC devices.
Second, chipmakers in China are aggressively buying semiconductor IP to make the best of the level playing field and shorten SoC design turnaround time. China's two SoC makers that boast annual revenues over $1 billion dollars—HiSilicon and Spreadtrum—are licensees of Arteris Inc.'s FlexNoC interconnect IP technology.
Rockchip, the chipmaker known for budget SoC devices, has also recently licensed Arteris' FlexNoC interconnect IP to serve as the on-chip communications backbone for its complete RK series of application processor SoCs. Rockchip, which has substantially invested in licensing or purchasing IP cores, has progressed from developing just one chip for a tier-one customers to developing as many as six chips a year using those IP cores.
According to Kurt Shuler, vice president of marketing at Arteris, for these applications processors, FlexNoC IP connects the processor to complex graphics processing units, on-chip peripherals and other subsystems. "The interconnect fabric provides QoS for on-chip communication, guaranteeing high bandwidth availability for initiators such as the GPU and low latency for communications such as the CPU-to-memory," Shuler says.
Li Shiqin, IC design director at Rockchip, acknowledged that the use of Arteris FlexNoC interconnect IP has enabled the fabless firm to increase the number of complex SoC designs that Rockchip can implement in a year. Another testament to China's growing appetite for cutting-edge semiconductor IP is CEVA Inc., the company that licenses DSP cores for baseband, audio and video, and consumer and wireless communications chips. Leadcore Technology Co. Ltd and Spreadtrum are two large baseband chip suppliers in China, and they both license DSP cores from CEVA.
Leadcore recently replaced Qualcomm's Snapdragon 410 SoC for the baseband socket in Xiaomi's new LTE handset. Likewise, Spreadtrum is supplying LTE baseband chips to Coolpad and Lenovo mobile handsets. IHS' Sideco says that ARM, as well as other chip design technologies, did play a role, but it was also other factors and dynamics that contributed. "For example, the rapid mass-market adoption of LTE and the verticalization of the application processor by some top tier OEMs played a major role as well," Sideco says.
China's SoC Genesis
China's ascent in the SoC world was neither sudden nor accidental. Since the early 2000s, when most of the fabless IC firms were launched in China, these upstarts have been working relentlessly to acquire chip design expertise and earn breakthroughs in the form of major design wins. For Rockchip and Spreadtrum, according to Sideco, it was MediaTek putting the focus on 3G and 4G technologies, allowing the others to capture some 2G market share and get some scale. "For HiSilicon, it was the parent company, Huawei, focusing on smartphones that gave it an opportunity," Sideco says.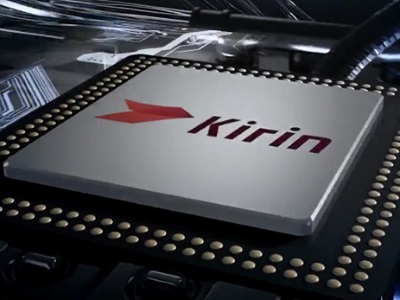 The evolution of HiSilicon's Kirin SoC is quite similar to Samsung's Exynos. Now, HiSilicon's 64-bit SoC is turning heads with an array of eight cores clocked at 2.0 GHz. The Kirin 930 SoC manufactured at 16nm boasts a much smaller size than Qualcomm's Snapdragon 805 manufactured at the 28nm process.
For Spreadtrum, the fabless semiconductor firm was the first chipmaker to cultivate China's homegrown TS-SCDMA 3G wireless standard. It's bet on the TS-SCDMA wireless market paid handsomely when its single-core smartphone platform won about 55% share in China Mobile's TD-SCDMA market, which now comprises more than 700 million handsets. Another breakthrough came when it won sockets for the RF and baseband parts in the Samsung Galaxy S3 and the HTC One XT mobile handsets.
The move toward W-CDMA-based global 3G technology and subsequently LTE-based 4G wireless was the next frontier for Spreadtrum. The company made that leap of faith on April 2, when it announced the SC7731G and SC9830A quad-core SoC platforms for W-CDMA and 5-mode LTE, respectively. Spreadtrum's LTE chip integrates an ARM Cortex-A7 application processor at speeds up to 1.5GHz and supports TD-LTE, LTE FDD, TD-SCDMA/HSPA(+), WCDMA/HSPA(+) and GSM/GPRS/EDGE multimode communication standards with dual-SIM and dual-standby capability.
Spreadtrum's new SoC for the LTE handsets also features a dual-core ARM Mali 400MP for 2D/3D graphics acceleration and a NEON multimedia processing engine and multi-standard multimedia accelerators, supporting 1080p HD video and a 13-megapixel camera.
China's silicon dream has come a long way since the early days when its chips were mostly seen as western knock-offs. IHS's Sideco says that China's SoC houses have already acquired multiple core competencies. Moving forward, he beleives they could potentially buy some international companies with strong SoC expertise. China's recent bid for Santa Clara, Calif.-based digital imaging chipmaker OmniVision Technologies Inc. could just be the tip of the iceberg.
There are already some indications that China's chipmakers have started to integrate new SoC building blocks like connectivity solutions for Wi-Fi and Bluetooth into their silicon platforms. Moreover, given the fact that China's government now effectively owns Spreadtrum and RDA, China may eventually want total control, using home-grown IP where ever possible.
Questions or comments on this story? Contact dylan.mcgrath@ihs.com
Related links:
IHS Semiconductors & Components
News articles: