Chip giant Intel Corp. – which has struggled to break out of the personal computing sector where it rose to prominence – has taken a leaf out of the playbook of processor rival ARM Holdings plc by entering into a strategic partnership agreement with Chinese chip company Rockchip to develop an Android system-chip. And the resulting chip will be made by foundry Taiwan Semiconductor Manufacturing Co. Ltd.
Intel is retaining branding rights on the chip so it is not yet following ARM's business model by becoming an intellectual property licensor, but as well as developing the chip Rockchip will also be allowed to sell it and Intel is eager to make use of Rockchip's knowledge of the Chinese market to support penetration of the x86 architecture into tablets there.
Fuzhou Rockchip Electronics Co. Ltd. (Fuzhou, China) is one of China's more successful digital startups and has been closely allied to ARM for much of its existence. Rockchip is a licensee of 64-bit and 32-bit ARM processor cores and the Mali family of graphics processor cores, which it has used to produce numerous SoC used in Android tablet computers.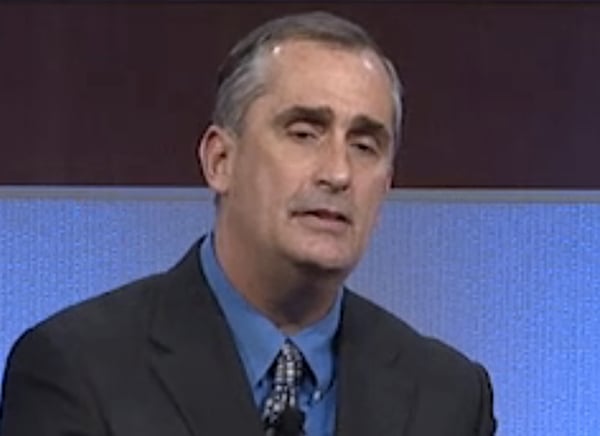 Intel CEO Brian Krzanich: "We are moving with velocity to grow Intel's offerings for the growing global tablet market,"
Now Intel has entered into a strategic agreement with Rockchip to help it get Intel processor cores into Android tablets. Under the terms of the agreement the two companies will create an "Intel-branded" mobile SoC that includes a quad-core Atom and Intel's 3G modem under the SoFIA name.
Intel will provide the Atom processor core and 3G modem IP and Rockchip will design the SoC. Both companies will sell the resulting chip, which will be branded as an Intel chip. The SoC is expected to be available in the first half of 2015 and aimed primarily at entry-level low-cost tablets, which would be at the sub $100 and sub $150 price point. Rockchip has experience of designing with Mali and PowerVR graphics processors. The latter maybe Intel's preference for the forthcoming SoFIA chip as it already has a PowerVR license.
Starting at TSMC, moving to Intel
Brian Krzanich, Intel CEO, said there was no investment component in the deal with Rockchip and it is not an exclusive deal. "We don't have any other partnerships in the works right now," Krzanich said during a conference call to discuss the announcement. With regard to where the chip would be made Krzanich said: "This one will be made at TSMC. As we move out of 2015 and into 2016 is when we will be moving it internally."
"We are always looking for innovative ways to differentiate our product portfolio, and the first-of-its-kind collaboration with Intel helps us do this," said Min Li, CEO of Rockchip, in a statement issued by Intel. "The combination of Intel's leading architecture and modem technology with our leading mobile design capability brings greater choice to the growing global market for mobile devices in the entry and value segments," he said.
The Intel SoFIA includes a dual-core 3G version expected to ship in the fourth quarter of this year, the quad-core 3G version that is subject to this agreement and a quad-core LTE version, also due in the first half of next year.
Related links and articles:
News articles:
Rockchip, Analogix Team to Push SlimPort
China's Rockchip Takes 64-Bit ARM License