Altera Corporation has announced the signing of a licensing agreement with Zentrum Mikroelektronik Dresden AG (ZMDI). Under the agreement, Altera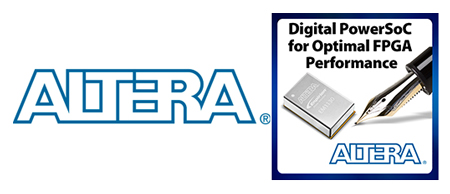 plans to leverage ZMDI's digital power management technology to integrate advanced multi-mode digital control (MMDC) power capabilities into the company's Enpirion® PowerSoC devices. The focus will be on expanding the control, adaptability and power saving features of Enpirion PowerSoCs, further improving the power efficiency of Altera FPGAs and SoCs.
Adding MMDC technology into Enpirion PowerSoCs delivers greater control performance between Altera's FPGAs and its power management ICs. MMDC-enabled Enpirion devices will be capable of supporting various new power modes resulting in a 30% reduction in FPGA power consumption.
Dr. Anthony Kelly, formerly ZMDI's chief system architect, will join Altera and lead the digital power design team.
Dr. Kelly says, "Altera is an innovation engine and I could not be more excited about the possibilities when we combine advanced digital power controller technology with Altera's Enpirion power products. Integrating our team of highly experienced power management engineers into Altera's world-class research and development team will allow us to leverage each of our strengths and bring new levels of control and adaptability to FPGA-based systems."
Enpirion PowerSoCs respond to the unique power requirements of FPGAs and SoC FPGAs, offering the highest efficiency and best signal integrity at the highest power density in the industry. The agreement with ZMDI allows the implementation of multi-objective, heterogeneous control modes, while delivering best-in-class transient response in a programmable digital domain. Altera will be able to create highly innovative power solutions, optimized to meet the high-performance demands of Altera FPGAs and SoC FPGAs.
Related Links: