Analog Devices, a chip company best known for its expertise in analog-to-digital and digital-to-analog conversion and in MEMS for automotive applications, has agreed to buy Hittite Microwave Corp. (Chelmsford, Mass.) for about $2 billion.
The deal is complementary moving ADI (Norwood, Mass.) – which already has expertise in RF signal conversion and conditioning – up into the microwave and millimeter wave part of the spectrum while serving the same or similar markets in automotive, industrial, communications infrastructure and military and aerospace. The fact that Hittite is based in nearby Chelmsford, Mass., will likely help smooth the acquisition.
ADI has offered to acquire Hittire for $78 per share representing a 29 percent premium over Hittite's closing price of $60.56 on Friday, June 6. ADI said it expects to fund the acquisition through a combination of cash on hand and short-term debt financing. The Boards of Directors of each company have approved the transaction, which is expected to close near the end of ADI's third fiscal quarter of 2014, subject to regulatory approvals and other customary closing conditions.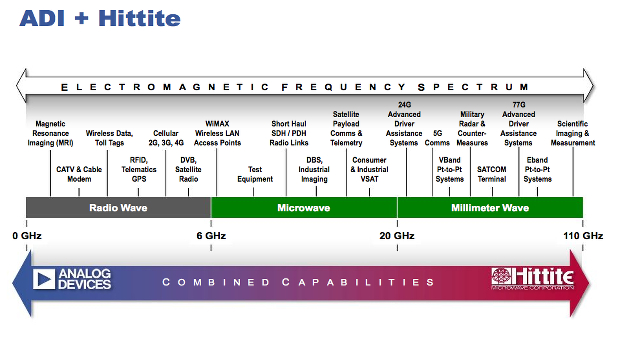 HIttite will help Analog Devices cover more of the spectrum. Source: Analog Devices.
Hittite operates a fabless chip company model and has an extensive product portfolio that includes integrated circuits, modules and subsystems. It focuses on circuit design and applications engineering and has approximately 500 employees worldwide. Over the last twelve months Hittite has had sales of $277 million, approximately 10 percent of those of Analog Devices, which would take the combined entity close to annual sales of $3 billion.
"Hittite's strength in RF, microwave, and millimeter wave technology complements ADI's RF and signal conversion expertise," said Vincent Roche, CEO of Analog Devices, in a statement. "Our combined capabilities will enable us to bring more complete solutions to our customers and address more of the industrial, communications infrastructure, and automotive markets."
Rick Hess, CEO of Hittite added, "I am confident our combined efforts will accelerate the course of innovation throughout cellular and microwave communications infrastructure, automotive, industrial instrumentation, aerospace and defense."
Analog Devices did not indicate that the Hittite Microwave would be retained suggesting that Hittite staff and products would be assimilated under the Analog Devices brand over time.
ADI also reaffirmed its financial guidance for its third quarter of fiscal year 2014, predicting revenue to increase in the range of 1 to 5 percent, and for diluted earnings per share to be in the range of $0.60 to $0.64.
Related links and articles:
News articles:
Bel to Buy Emerson's ECS Business
Infineon Sets Up Strategic Investment Fund