Analog Devices Inc. Tuesday (Nov. 26) reported strong fourth fiscal quarter financial results, earning a net profit of $202 million on sales revenue of $678 million in the quarter ending Nov. 2. However, the company gave an outlook of sales down by between 5 and 10 percent in the first fiscal quarter of 2014 that disappointed analysts.
ADI's view of the industry differs from that of a number of other semiconductor companies because of its volume of sales into the industrial sector and a deliberate move it has made away from consumers. The breakdown of the fiscal annual sales by sector was as follows: industrial, 46 percent; automotive, 18 percent; consumer, 15 percent; communications, 20 percent.
Fourth fiscal quarter sales of $678 million represented an increase of 1 percent sequentially and a decline of about 2 percent year on year. The net income compared with $176 million in the prior quarter and $179 million in the same quarter a year before. Although the net profit was the highest in eight quarters, it included a one-off gain of $85.4 million from the sale of ADI's microphone business to InvenSense Inc.
CEO Vincent Roche said that 2014 would be a year of growth, but ADI's 2014 fiscal year is likely to get off to a slow start. This is partly because industrial customers are looking to implement shutdowns over the holiday period and because the Chinese Lunar New Year falls in January and within ADI's first fiscal quarter.
Roche was appointed president and CEO in May 2013 following the unexpected death of previous CEO Jerald Fishman in March 2013.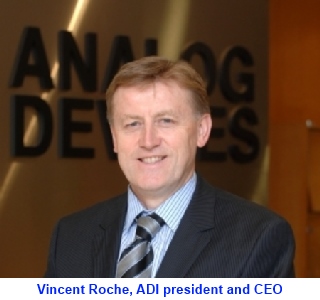 Talking to analysts on a conference call, Roche stressed that the midpoint of the 1FQ14 forecast is still in line with the average of ADI's sequential performance over the last three years. And for the full fiscal and calendar years, Roche was more optimistic. "Unless we have some major turbulence on the geopolitical front—things out of our control—2014 will be a year of growth. That's my own sense from talking to customers."
He added that industrial customers are talking about an upgrade cycle in 2014, while there is continuing activity in automotive and communications infrastructure with the build-out of 3G/4G networks.
For the fall fiscal year, ADI reported sales revenue of $2.63 billion, a second sequential annual decline—down from $2.7 billion in the previous year and from $2.99 billion in the year before that. Despite the declining annual revenue, the company made a net income of $673 million in the fiscal year, up from $651 million.
Analog Devices reported capital expenditure of $123 million in the fiscal year with a plan to spend $150 million in fiscal 2014. The company expects its manufacturing capacity utilization at between 60 and 70 percent, with approximately half of its products made at outside foundries.
As of Nov. 2, 2013, Analog Devices had cash and cash equivalents of $392.1 million. David Zinsner, CFO, said the money would be used for dividends, share buybacks and some small "tuck-in" acquisitions.
Related links: