A distinguished set of speakers and panelists at the GSA European Executive Forum, held in Munich last week, concluded that the wearable equipment market may start with products, such as activity monitors, but will take-off when valuable cloud-hosted services can be offered seamlessly through comfortable, stylish accessories.
The speakers presented an essentially positive view of the market, which has been much discussed in 2014, but also showed an awareness that the semiconductor and electronics industries are at risk of believing their own hype about the sector. There is an intense desire within the electronics industry for wearables to be the "next big thing" as a follow on to the smartphone and tablet computer markets where growth rates are flattening and competition has reduced profit margins.
Nonetheless the panel concluded that electronically-enabled products in wireless connection to a smartphone as a personal hub will be a major market and transformational in society – but only when data aggregation and service-based business models are rolled out.
As such health monitoring is likely to be a key driver of the market although there is still a strong requirement to develop more efficient sensors, wireless connections and create wearable processor architectures with an order of magnitude or more improvement in power consumption.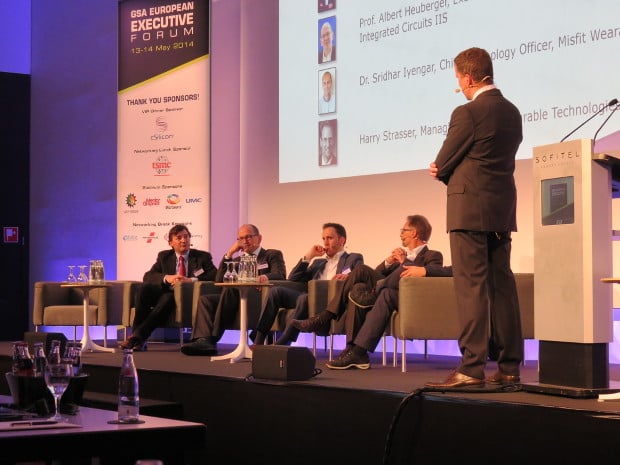 IHS analyst Jeremie Bouchaud moderates the panel on wearables at GSA European Executive Forum.
Harry Strasser, managing partner of consultancy Wearable Technologies AG, set the tone for the debate when he said: "This hype is justified – but it may take more time." Nonetheless it was Strasser's conclusion that wearables are about to "cross the chasm" and disrupt multiple markets including: consumer electronics, watches, glasses, healthcare sport and fashion. "Carriers [of phone service] are stating to step into this field. It's not about the product; it's about the service," he said.
A number of the speakers were quite clear that the majority of wearable electronic items bought today – with the exception of hearing aids – are used for a while and then discarded. This includes items such as the Gear smart watch that was provided with the Galaxy S5.
"If you don't tap into the emotion and psychology of why people wear things, these wearables won't get used," said Sridhar Iyenhar, CTO of wearables company Misfit Wearables.
This was a point echoed by Professor Albert Heuberger of the Fraunhofer
Institute for Integrated Circuits IIS. Professor Heuberger made the point that there are many reasons why a user might stop wearing electronic equipment and that it impact of wearing a device has to be made minimal. There has to be a clear and relevant user benefit and an intuitive, familiar and seamless experience to using the device. Nonetheless there are applications where there is a clear benefit, such the tracking of vulnerable people such as children and older members of society.
Misfit goes to the trouble of tracking battery consumption in customers devices and mailing them the replacement battery, because changing the battery on the device can be enough inconvenience to prevent its use. The point was echoed by a number of speakers who agreed that wearing wearable devices has to be made "cool" and that the fashion industry will take the lead in doing this.
One way to prevent a dead battery killing off a product is to make it so energy efficient the battery lasts for as long as the product or it can be powered from energy harvested from the environment.
Rudi Cartuyvels, senior vice president of smart systems & energy technologies at research institute IMEC, added security and ultralow power to the mix of topics under debate. "Near-threshold voltage computation is very important for this. But your circuits then become susceptible to variation. You have to find the right trade-off," he said. IMEC already has a 750-microwatt multisensory SoC that uses near-threshold techniques he said. "We already trying to develop near-threshold circuits and once they are robust enough they will get adopted in IC blocks and be used by the industry." Cartuyvels was less optimistic about the adoption of energy harvesting within wearables. "Energy harvesting will happen first in industrial and environmental applications. There are a lot of challenges for EH in wearables." Despite the fact that technology is still yet to be developed or optimized for the extreme low power the semiconductor industry is pushing hard.
"We're tracking 90 designs and expect up to 210 million wearable equipment shipments in 2018," Laurence Bryant, vice president of strategic marketing at ARM Holdings plc (Cambridge, England). "Wearables creates new design rules; CPUs processing locally is more efficient because each bit transmitted is costly. Packaging and security will be very important."
Market forecasts
As part of the themed session Jeremie Bouchaud, senior principal analyst responsible for MEMS & Sensors at IHS, provided an overview of the market expectation and led a panel discussion.
Smart glasses and hearing aids will be 50 percent of $30 billion market for wearable electronic equipment in 2018, with smartglasses have risen from zero in 2013, he said. Bouchaud also emphasized the significance of medical equipment with 1.8 billion people around the world managing a chronic condition in 2013.
But Bouchaud believes that the major portable brands Apple and Google are the one that have enough market clout to think beyond individual products and think about service-oriented business models.
He pointed out that the M7 sensor hub IC within the iPhone 5S is there to allow "always on" activity monitoring and that the iOS8 operating system, due to launch in June, will have features in support of health monitoring built-in. A Healthcare application software is being designed to calculate blood pressure, the amount of calories burned by the users during exercise, heart rate and so on.
Apple has also hired executives and engineers from Masimo Corp. (Irvine, Calif.) a manufacturer of non-invasive patient monitoring technologies as well as sensor developers from Digital Health, Vital Connect, AccuVein, C8 Medisensor and Senseonics, Bouchaud observed.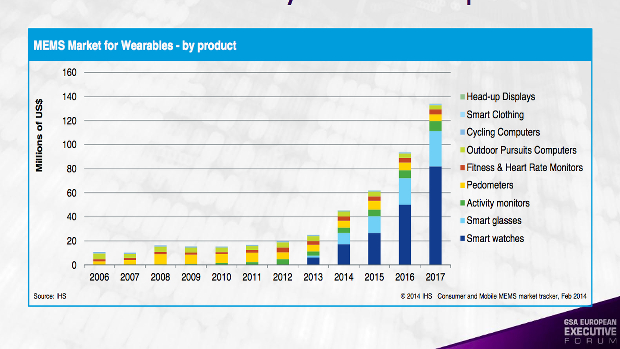 MEMS market by wearable product. Source: IHS
Bouchaud then presented a view in terms of MEMS and sensors for the wearables category. MEMS for smartwatches will take more than $80 million of a $135 million annual market in 2017 he predicted. He also predicted that while the market for accelerometers would grow steadily the market for MEMS microphones will explode, mainly to do with its inclusion in smart watches smart glasses. The market for MEMS microphones in wearable items will go from almost zero in 2012 to nearly $50 million in 2017, Boucaud forecast.
STMicroelectronics is set to benefit already being the leading supplier of MEMS sensors for wearables with about 33 percent of the market in 2013.
All of the speakers came together in a panel discussion and were unanimous in concluding that wearables will impact the masses when they can be combined with a service that is probably based on aggregating data from thousands or millions of users. It was notable that when the audience of more than 300 delegates at the GSA event were asked how many regularly wore an activity monitor only 5 or 6 hands went up.
Nonetheless the panellists agreed that when compelling services are offered via stylishly designed objects such as glasses and watches the market will change. And quite possibly in the professional sector first where they may be an economic reason to interact in new ways using these objects.
Iyenhar of Misfit Wearables made the point that his company's experience of pitches from semiconductor companies has changed in just the last couple of years. "There's a lot of interest an a lot of investment going into this from the semiconductor companies."
The take-away from this thorough examination of the wearables market provided by the GSA European Executive Forum is that this market will happen but it the introduction of activity monitors are just the first baby steps. It will really take off when health service providers join forces with mobile phone service providers and start offering compeling services to users at home and on the move.
Related links and articles:
News articles:
Intel Ignores History With Wearables Buy
Exclusive Video Teardown: Samsung Galaxy S5
Wearables to Add $70 Million to Battery Sales by 2018