The annual market for batteries for wearable electronics is set to go from $6 million in 2014 to $77 million in 2018, according to a market research report from IHS Technology, the publisher of Electronics360.
IHS analyst Thomas McAlpine expects wearable devices for sports, fitness and well-being will be popular with consumers as well as smartwatch and smartglasses products. These devices will be at the intersection of fitness and fashion, he said. Some of the first smartwatch products were launched in 2013 and Google is running a trial program for GoogleGlass, a product expected to launch in 2014.
Annual shipments of wearable electronics devices will reach 56 million units in 2018, from an almost non-existent base in 2013, fueling demand for batteries.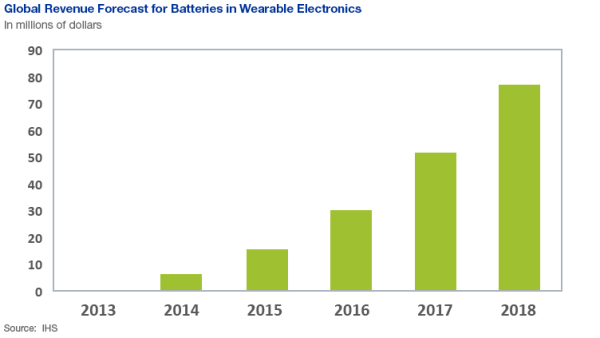 Lithium polymer batteries will take 73 percent of the total wearable battery revenue. They are lighter in weight than lithium-ion and can be manufactured in a wider range of shapes and sizes.
Lithium battery sales into smartphones and tablet computers is set grow by 46 percent from 2013 to 2015 but shipments will decline thereafter alongside average selling price erosion.
More information can be found in the report "Batteries in Portable Consumer Electronics – World 2014."
Related links and articles: