Now that electronics devices have untethered themselves from cables and cords, wireless services are proliferating. In the machine-to-machine (M2M) market, for example, cellular has become the network of choice for many M2M applications. Cellular network operators have a significant opportunity to expand their value proposition to customers by providing an array of M2M services, according to market research firm IHS.
The rise of M2M comes at a time when the traditional cellphone-based mobile services market is becoming increasingly mature and saturated, with growth slowing particularly in the developed markets like the United States and Western Europe.
The number of cellular M2M connections will more than triple by the end of 2017, according to Sam Lucero, senior principal analyst for M2M and the Internet of Things at IHS Electronics & Media. In parallel with the rise of connections, revenue generated by cellular M2M services from wireless carriers will explode during the coming years, rising to $22.4 billion in 2016, up from $9.6 billion in 2012, according to Lucero.
These offerings extend well beyond connectivity. Managed services will provide long-term opportunities for cellular operators, Lucero told participants in the recent webinar, Mapping Growth and Opportunity in the Cellular Machine-to-Machine Market webinar. But Lucero added that professional services are equally lucrative. The key, Lucero said, is providing an array of services that will leverage customer opportunities.
"Wireless service providers ranging from Verizon Wireless, to Vodafone, to China Mobile are turning to the cellular M2M market as a new, high-growth market opportunity," Lucero said. "However, to take full advantage of the M2M's market's potential, the wireless firms must deliver their customers much more than simple cellular connectivity. Instead these companies must offer a full suite of value-added and M2M application platform (MAP) services, prompting them to establish their own M2M business units and develop or acquire M2M connection platforms."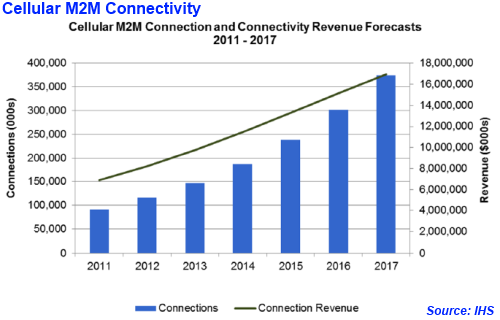 The leading applications in M2M—asset management, automotive, energy and utility, and healthcare—will require hundreds of millions of connections over the next five years. IHS projects that global connections will rise to 375 million in 2017, up from 116 million in 2012.
Network operators and OEMs are in part driving this demand—they're seeking to facilitate M2M market development and drive new revenue models. In spite of this push, widespread adoption faces a number of challenges: applications development remains complex; there is no overall standard for cellular M2M; and cellular networks continue to transition from 2g and 3d to 4g and beyond. M2M devices have long expected deployment times in the field, ranging up to 15 years or more.
Additionally, according to Lucero, M2M revenue models in these applications are complicated. Healthcare, for example, has to consider insurance reimbursement as part of its services set.
Operators are helping customers overcome some of these challenges by partnering with other vendors in the M2M value chain such as module makers, platform providers and systems integrators. "Partnering with module makers, for example, makes it easier customers to acquire modules and integrate them into their applications," Lucero said.
In parallel with the establishment of M2M-specific business units, wireless carriers are deploying M2M Connection Platforms (MCP) to tailor the operators' infrastructure and systems to the needs of the M2M market. MCPs are required because of the major departure that M2M represents compared to established cellphone-based services.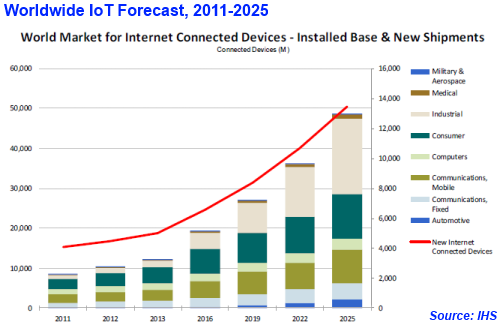 Network operators can also expand their value by offering professional (one-time upfront) and managed (ongoing) services, Lucero said. Professional services can include strategy consulting, business case development, application development, testing and quality assurance, and sales and marketing support. Managed services can encompass cloud hosting; data analytics; enhanced security; enhanced help desk support; and equipment procurement and financing.
"There is a lack of awareness in M2M: customers don't know what is available in terms of service and support," Lucero said.
Carriers are also looking at the Internet of Everything (IoE) as a value-added opportunity. IoE isn't limited to cellular technology, and IHS estimates more than 50 billion IoE devices will be connected by 2025. The IoE market is facing challenges similar to M2M in terms of a lack of standards. Operators should look beyond connectivity as the basis for customer engagement, Lucero said.
"Operators may want to consider selling services even if they don't provide connectivity to their customers," said Lucero. "They should think about enabling connectivity so that other services can be deployed."
While it is important to note that M2M services have been implemented using traditional telecom systems, it is unlikely that such services could become an offering by a mainstream wireless carrier without M2M.