Despite earlier expectations that overall PC shipments in Q4 would rise 14.7 percent compared with Q3 shipments and 3 percent compared with Q4 of 2012, consumers' fondness for tablets and other forms of less-expensive mobile computing continued to take their toll.
It would have been the first time in several quarters that overall PC shipments would have improved on a sequential or year-over-year basis.
But, based on still-preliminary Q4 data (final Q4 numbers won't be published until March), the chances of an uptick are now slim to none, according to Craig Stice, senior principal analyst for compute platforms at IHS.
In fact, the latest numbers suggest a decline of about 3.5 percent for total PCs compared to the fourth quarter of 2012.
On a more positive note, the holiday season—typically the strongest quarter of the year—may have seen a 7 percent increase when Q4 is compared with 2013's Q3, still about half of the 14.7 percent gain originally forecast.
However, Stice cautioned, the data represent the number of units going into the channel for retail sales and don't necessarily equate to retail sales.
"Even though there was a lot of opportunity in Q4," Stice said, "and I've heard that some PC retail sales were actually better than expected, all the OEMs were still very conservative regarding the actual units going into the channel. That's because the PC market has been sluggish for so many quarters and consumer demand has just been so questionable that all the PC OEMs are managing their inventory levels so that they are very, very lean. While there was some amount of optimism on their part, the mindset and the actual orders that were being produced to put PCs into the market were actually a bit more conservative than we'd expected."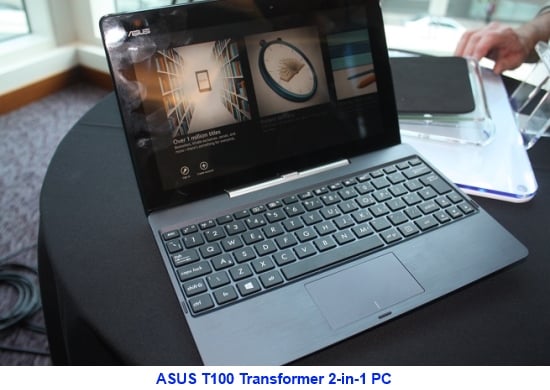 Stice had anticipated that several factors would give sales a boost during the holiday season, including new, lower-priced, entry-level systems. Unfortunately, he said, only a handful of lower-priced systems—the kind that were going to compete from a pricing perspective with the media tablets that are taking a lot of the consumer attention away from PCs—made it onto the shelves in time for holiday shopping. The rest, he says, are still in the process of being launched.
One example of systems that were on the shelves was the ASUS T100 Transformer, a 2-in-1 full PC with a notebook keyboard and a touchscreen detachable display.
"In the last earnings call, ASUS mentioned several times that sales were going very well," Stice added. "But we didn't see a whole lot of other systems at the same price-point for the holiday season. They're still trickling out, but there's not enough full breadth of product on the shelf to make a difference this last quarter. There are still plenty of new systems out there and lots of new products being launched, but many of them are in the upper price range, from $750 to $1,000."
One of the features that allows the ASUS T100 to be priced so attractively, says Stice, is Intel's new quad-core Atom (Bay Trail) processor which, he says, is what's driving the starting entry-level price point of $349.
"What Atom brings to the table is a full PC experience running a full Windows OS, so the user can utilize all the Office Suite software they are used to—like PowerPoint, Excel, and Word—only at a lower price point," he said. "It's a technology that's expected to enable some new, very aggressive price points into the PC market."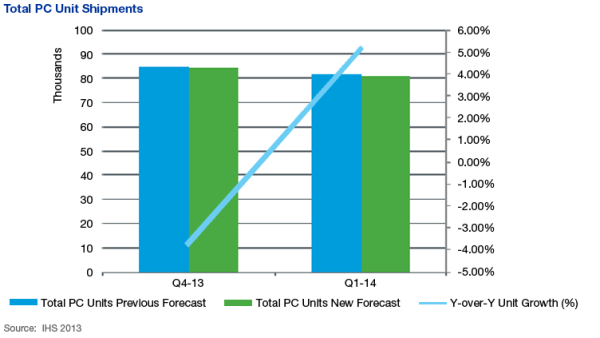 Indeed, an Intel spokesperson noted that the company saw continued signs of stabilization for the PC market in Q4, "consistent with our expectations at the start of the quarter. There was strength in desktops in business (including small- to medium-size businesses) and among consumer enthusiasts. But the overall consumer PC market remained in transition and PC demand in emerging markets, including China, remained soft. For the first quarter, we're expecting a seasonal decline in our overall business."
Looking ahead, while Intel expects slightly lower PC units next year, "there is still a tremendous opportunity for innovation to drive sales," said the spokesperson. "Our OEMs are delivering an extremely compelling array of devices at a wide range of price points with new capabilities, including touch, 3-D interaction, and facial login, with twice as many flip and convertible designs being introduced in 2014versus 2013."
Neither HP nor Dell—the No. 1 and No. 3 PC makers, respectively—would supply a spokesperson to comment on the strength or weakness of the market.
While Intel sees a decline in its business for Q1, IHS's Stice believes there's some optimism in the industry that will continue forward throughout 2014 based on several expectations:
Q1 is when other new systems at entry-level price points will start entering the marketplace.
Media tablets are expected to reach their saturation point, specifically in mature markets.
Windows XP is set to expire in April, which should result in enterprises continuing to refresh complete systems.
There are hundreds of millions of PC clients in the installed base that are four years old and older who are expected to begin upgrading their PCs.
"What media tablets have done is to prolong the refresh rate of PCs to the consumer," Stice said. "They have their three-, four-, or five-year and older notebooks or desktops that are still working and there's been no need to go out and get new ones. But, while some consumers have been able to transition from the PC to the media tablet, other consumers still rely on the processing power of the PC as the media tablet isn't as efficient. Many people believe, as do I, that these consumers will eventually need to refresh their aging PCs. The commercial markets also still value the performance of the PC. So a PC refresh cycle is possible, just perhaps not as often or as quickly as they used to."
And when that refresh cycle does happen, the PC annual growth decline will slow, level out, and perhaps there will even be a slight uptick.
"The long-term forecast looks to be relatively flat," said Stice, "a little bit up, a little bit down, and all dependent on the buying habits of the consumer—which is a really difficult thing to try to predict."
Related stories: