The PC market is set to contract in 2013 for the second straight year after declining in 2012 for the first time in 11 years, according to IHS.
Notebook PC shipments increased in the third quarter compared to the second quarter, according to IHS, offering a glimmer of encouragement to the beleaguered PC market. But while notebook PC shipments posted their largest sequential increase in two years in the third quarter, shipments declined on an annual basis for the fifth consecutive quarter, according to IHS. The firm believes that the year-over-year decline in the third quarter makes it increasingly apparent that the PC market is headed for a second consecutive year of contraction in 2013.
"Amid the onslaught of tablets, the notebook PC market now is desperately seeking any reason for optimism—and the sequential growth in the third quarter is offering a ray of hope," said Craig Stice, senior principal analyst for compute platforms at HIS, in a statement. Stice added that the probability of a second consecutive year of contraction "once would have been unthinkable for the formerly high-flying mobile PC business."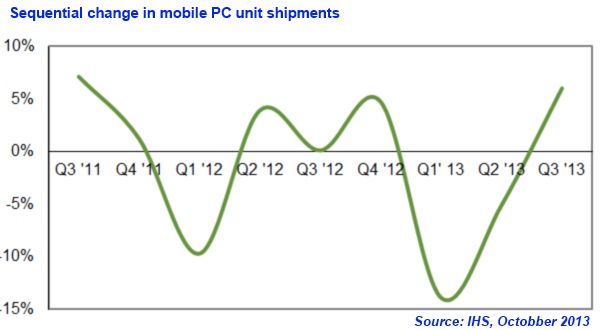 An estimated 47.9 million mobile PCs shipped in the third quarter, up 6 percent from the second quarter, but down 9 percent compared with the second quarter of 2012, IHS said. The sequential growth was the largest for the market since the third quarter of 2011, when shipments increased 7 percent sequentially, IHS said.
But IHS also highlighted some encouraging market developments for the mobile PC market. Among them, Intel Corp.'s new Haswell microprocessor and the forthcoming "Bay Trail" version of the Atom chip will make mobile PCs like Ultrabooks faster and more agile while also extending battery life—qualities that could enhance the machines' appeal to consumers, IHS said. Advanced Micro Devices Inc.'s new lineup of processors will compete in performance as well as in low-power and entry-level-pricing markets, IHS said.

IHS also noted that the desktop PC space should get a boost with the Microsoft Windows XP operating system due to expire in April, leading to a much anticipated refresh cycle for the commercial segment. This could translate into millions of computers upgrading to a fresh operating system and more advanced hardware, IHS said. Any uptick in the desktop space could benefit the mobile market if excitement over new software and hardware spills over and engages consumers, IHS said.
"All hopes are now pinned on the fourth quarter, which could end up as one of the most important holiday seasons yet for the PC industry," Stice said. "With various new technologies launching, the PC trade believes it is playing its best hand in years. Many eyes will be watching to see how the rest of the year—to say nothing of 2014—turns out."
Related stories: