Processor intellectual property licensor Imagination Technologies Group plc (Kings Langley, England) has announced the Raptor image processing pipeline architecture as part of its PowerVR family of graphics- and imaging-oriented cores.
Raptor, code name for the architecture of the PowerVR Series 2 family of cores, is designed "from the ground up" for integration in system-on-chip ICs, Imagination said. It is suitable for such tasks as face and gesture recognition as well as augmented reality applications and is designed to operate as part of a heterogeneous computing platform.
Image signal processing (ISP) cores based on Raptor and aimed at specific markets are available for licensing, but Imagination said it would not provide further details of the cores until the first quarter of 2014.
The architecture supports 16-bit pixel depth to provide dynamic range but with the ability to configure the pixel depth of the pipeline to match sensor capabilities. This provides the ability to save power compared with DSPs, which usually offer a fixed data width. Raptor provides support for multiple sensors with fast context switching and support for 10-bit sensor outputs as used in 4K and ultra-high-definition television applications.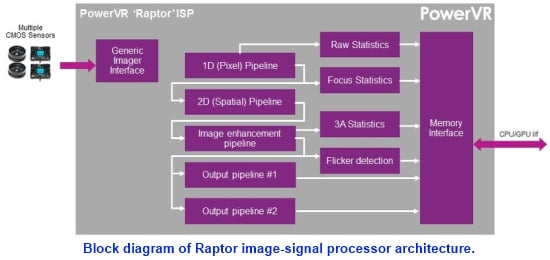 Imagination said it will provide software for ISP, lens and sensor tuning to enable customers to support a wide variety of industry-leading sensors and lenses such as those from Aptina, Omnivision, Sony and ST. Also included are software drivers to support Linux, Android and other operating systems, including real-time operating systems.
Raptor is based on vision technology experience gained when Imagination acquired Nethra Imaging in June 2012 and its technology became Imagination's Series 1 ISP. Through that acquisition, Imagination vision technology has shipped in millions of products, including sports and other high-end cameras.
Imagination's approach shows some differences to that of rival processor licensor ARM. ARM's Mali range of graphics processors supports GPU-compute and has a core specifically targeting video rendering. However, ARM has yet to introduce an architecture or core targeting image-signal processing or camera processing. ARM and Israeli startup EyeSight Mobile Technologies Ltd. recently completed an optimization of EyeSight's gesture recognition software to run on ARM's Mali T600 series graphics processors.
Related links: