Novalia Ltd. (Cambridge, England) has developed the ability to use standard printing processes and materials—paper, card, plastic—to produce capacitive touch electronic switches.
When combined with ultra-low power Bluetooth wireless communications, this can support innovative mass-market applications such as interactive posters and books and even a paper-based printed wireless keyboard, according to Nordic Semiconductor ASA (Oslo, Norway).
A wafer-thin keyboard costing $10 and made out of paper will be demonstrated at the International Consumer Electronics Show (CES) in Las Vegas in January.
The technology is straightforward, using conductive ink and standard printing processes—such as screen print, flexography and offset lithography—to produce conductive pads and paper layers as the insulator between pads. By touching the pads, the capacitance is changed, which can be detected through an electronic control module connected to the conductive traces. If a Bluetooth transceiver is connected, control signals can be sent to a nearby Bluetooth-enabled device such as a smartphone or tablet computer.
The CES demo will comprise a QWERTY keyboard printed with conductive ink on a regular sheet of A4-sized photo paper (11.7-inch x 8.3-inch). A control module with nRF51822 system-on-chip from Nordic Semiconductor and two CR2016 watch batteries measures 120mm x 25mm x 2mm.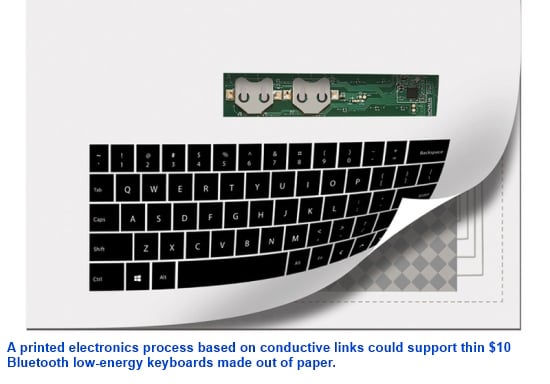 The A4-size paper with printed keyboard sits above a printed 20 by 8 X-Y touch matrix. The ARM Cortex-M0 based microcontroller manages the capacitive touch detection, transmits keyboard information and provides a battery life of up 18 months. A simpler demo developed by Novalia is a drum poster that allows users to play the drums and cymbals by touching the printed image.
"All of the above demos can be achieved with an electronics control module as thin as 2mm in thickness and support an X-Y printed touch-pad as thin as 50 microns," said Kate Stone, CEO of Novalia, in a statement issued by Nordic.
Stone said she hoped the technology could be used to update everyday physical objects such as books or to help provide low-cost access to technology.
Geir Langeland, Nordic Semiconductor's director of sales and marketing, said: "I commend Novalia for the sheer level of innovation and ingenuity being demonstrated here and take pride in the fact that this application could not have been achieved without the use of a single Bluetooth low-energy Nordic Semiconductor nRF51822 with the technical capabilities to handle both the wireless connectivity and the application control simultaneously."
Novalia was founded in 2004 and has attracted backing from Solon Ventures. Total investment now stands at just over £1 million (about US$1.6 million).
Related links: