The gap between people and computing devices has begun to close. Beginning with multi-touch and then moving to gesture and voice recognition, the line separating device interfaces and the body has become blurred; enabling humans to communicate and interact more naturally with electronic devices. However, there is still something missing. Just as the human hand captures the nuances of thoughts and transfers them to paper, canvas, or clay, the next generation of input devices needs a way to capture the subtle expressions of the human hand, which after all is a conduit of the mind. These devices need an extra dimension of expression to bring together the digital and physical worlds in a tangible way.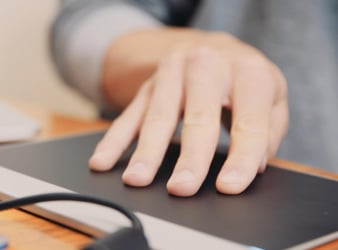 This tactile device from Sensel, called the Morph, uses over 20,000 force-sensing elements to translate input from a broad variety of tools, ranging from the human hand to a paintbrush, into data that can be used by computers, boasting high-dynamic-range sensitivity. Credit image: Sensel.This is where Sensel's Morph comes into play. The company aims to use the pressure-sensitive, multi-touch input technology to create new ways for people to interact with computers. Compatible with iOS, Windows and Arduino systems, the Morph works with a full range of computing platforms—from tablets and laptops to desktop computers, connecting via USB, Bluetooth, or developer cables.
The designers of the Morph made the device about the size of an iPad. "We originally planned to build a smaller trackpad-sized sensor, but realized that the full power and magic of the device could only be realized if the sensor was big enough for two-handed operation," says Aaron Zarraga, co-founder of Sensel.
This tactile peripheral boasts high-dynamic-range sensitivity, which allows it to detect not only your fingers, but also objects such as a paintbrush or drumstick. This last feature sets the Morph apart from single-purpose devices because it enables one device to perform a variety of functions, from playing music or painting images to interacting with a game or even facilitating software development.
Translating Touch
The heart of the Morph consists of two layers: an electrode grid made up of 20,000 force-sensing elements and a sheet of polymer material that enables each sensing element to measure force over 4,000 detectable voltage levels. This means that the Morph can detect anything from the delicate touch of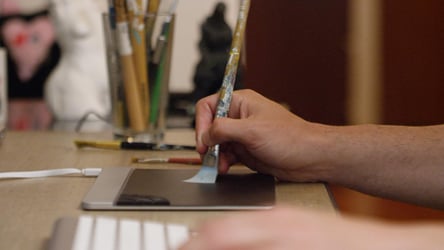 The Morp's sensors operate at frame rates of 150 Hz, offer sub-millimeter resolution, and picks up forces ranging from 5g to 5Kg. Image source: Sensel a paintbrush to the hard slap of a hand.
Sensel uses an advanced lithographic manufacturing process to create the electrode grid, unlike most force-sensing arrays, which are typically screen-printed on Mylar film. The advantage of Sensel's approach is that the lithographic process can produce a sensor array that consistently delivers high-resolution data, where screen-printed systems usually cannot.
"We set out to build a touch sensor tuned to what human hands are capable of in terms of speed, precision and force sensitivity," says Zarraga. "To accomplish this, we created a sensor that operates at frame rates of 150 Hz and above, tracks with sub-millimeter resolution, and picks up forces from 5 g at the low end to 5 Kg at the high end."
Another way in which the Morph sets itself apart from other touch-based input devices is the physical phenomenon the device senses. Other devices often rely on capacitance, and as a result, they can sense only conductive objects. The Morph's sensing elements measure pressure and can capture a high-resolution image of the force applied to the device. Algorithms residing on the device then take the pressure images and convert them to a list, or map, of touch locations. Each location has its own force and shape information.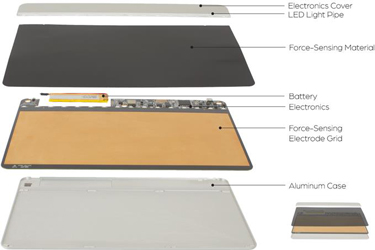 About the size of an iPad, the Morph embodies a sensor array capped with a sheet of polymer material that enables each sensing element to measure force over 4,000 detectable voltage levels. Image source: SenselTo read pressure events and interpret the sensor signals in real time, Sensel has developed an electrical drive scheme that can read high-resolution sensor signals at more than 125 Hz, with latencies less than 8 ms and low power consumption. The Morph's hardware also includes an accelerometer, LED indicator lights and a rechargeable battery.
However, collecting pressure data is only part of the input system. Customized interfaces called overlays provide the means to perform a variety of applications.
Tasks and Functions
These overlays provide the key to unlocking the functionality of the Morph. The "physical apps" take the form of a magnetic, flexible sheet that acts as a tactile interface, converting pressure inputs into data that allows the device to become almost any tool or instrument. When you place an overlay on the Morph, the system automatically detects the overlay's unique magnetic identification code and activates the appropriate algorithms and software, enabling the input device to "map" the tactile feedback and perform the application's unique functionality (e.g., painting bush strokes). These identification codes allow the Morph to automatically switch overlay modes seamlessly.
The standard overlays offer a deep range of functionality, mimicking real-life tools and devices. Here are two examples:
• The music production controller overlay has eight control buttons, eight touch knobs, two touch sliders, and a 13-key piano, offering features such

The Morph provides connectivity via a USB port, Bluetooth, or developer cables. Image source: Senselas after touch pressure, finger-rocking modulation and pitch bending.
• With the digital art tablet, you can use actual pens, pencils and paintbrushes. The Morph sends the data you input with these instruments through a standard stylus interface, making it compatible with a broad range of art applications.
When the Morph ships (scheduled for some time next year), you will be able to choose three overlays out of eight options that will be offered. These include a QWERTY keyboard, music production controller, piano keyboard, drum pad, art tablet, gaming controller, the innovator's kit, and another yet-to-be-determined overlay.
A Work in Progress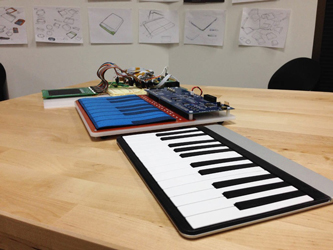 Users can combine Morph-enabled devices to expand an application's functionality. Image source: SenselWhen the Morph becomes available, the evolution of the tactile interface will have just begun. The creators of Morph see their device as a jumping-off point for users and developers to continue to shape the device's functionality, and Sensel is developing tools to help them with the job.
For starters, developers will be able to access touch location data via Sensel's API. The company hopes this will enable anyone to expand or enhance existing applications or create new ones. In addition, Sensel is developing a simple Web-based, drag-and-drop interface that will become available when the first batch of devices ship. With the interface, you will be able to design and fabricate your own overlays without writing a line of coding.
"We are currently building tools that allow users to create new overlays and experiment with entirely new, custom interfaces," says Zarraga. "By offering access to the raw touch data through our API, we also want to see users build new applications with the Morph. While we've begun by developing music and art applications, we're excited to see the Morph enable use cases in other fields as well. We think that the Morph can be used for gaming, robotics, IoT, and even medicine."
Questions or comments on this story? Contact engineering360editors@ihs.com