Brian Krzanich, recently appointed CEO of the world's largest chip company, Intel Corp., has told financial analysts about renewed efforts in mobile markets for 2014 and 2015 even as there is an expectation that the PC market will start to recover. Nonetheless, the company gave a generally disappointing prediction that sales in 2014 would be approximately flat with 2013.
However, as part of a strategy shift at Intel, the company is ready to increase its foundry work to take on customers on a design-by-design basis and is also prepared to use an outside foundry to make its chips.
In opening Intel's annual analyst day at company headquarters in Santa Clara, Calif., on Thurs., Nov. 21, Intel Chairman Andy Bryant admitted that the company had lost its way. "When we began our search for the CEO a year ago ... I was embarrassed that we had lost our way," Bryant reportedly said. He admitted that Intel had failed to sell many chips into smartphones and tablet computers.
However, CEO Krzanich said that Intel would increase sales into tablet computers by a factor of four in 2014 to more than 40 million units and would at the same time use its chip-manufacturing capability to drive advantages in 14-nm and 10-nm FinFET processes as well as expand its foundry services business to a broader set of customers.
Krzanich said that 10-nm process technology will be ready in 2015. In a slide presentation, Krzanich said, "Open foundry to any company able to utilize our leading-edge silicon. Create platforms for enterprise; not just silicon." He added, "We'd become insular. We'd become focused on our best product versus where the market wanted to move. We will embrace where the market moves."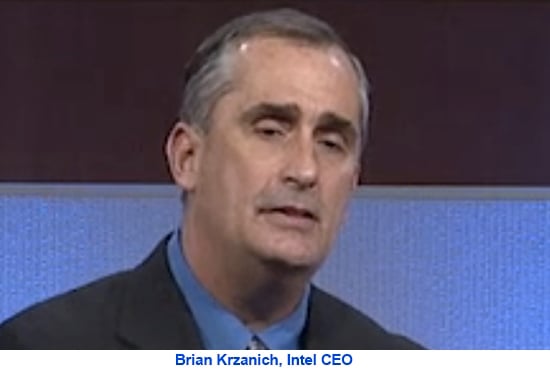 On the mobile front, Krzanich illustrated the case with two new products: Broxton and Sofia. Broxton is an Atom-based processor due in mid-2015 that will utilize the Goldmont Atom architecture and will be built in 14-nm FinFET using the manufacturing process converged for tablets and high-end smartphones. Internally, it will have a new "chassis" that will allow Intel to generate derivative chips more easily than it has in the past.
However, the entry-level and value end of the market will be addressed in 2014 and 2015 with a chip called Sofia that will be made at an external foundry.
Sofia will be based on a previously developed RF chip that covers Wi-Fi, Bluetooth, FM but uses an ARM core to control its 3G modem. "The first step is to take out the ARM core and put in IA core, basically an Atom core," Krzanich said, while stating that the chip would still be made externally for reasons of pragmatism. "The first one will be 3G; the next will be LTE," he said. The next step will be to bring manufacturing back inside Intel at the end of 2015, Krzanich added. At that point Intel will have a 3G/LTE integrated application processor and modem manufactured on Intel 14-nm FinFET technology—something no competitor would have, he argued. "Three months ago, this wasn't on the roadmap ... Now we have to execute."
Renee James, president of Intel, also spoke as part of the analysts' day presentations, taking the lead on the matter of Intel services. James said that the company has focused on three main areas of services: security, cloud and foundry. "We've been working for many years on lots of services—what I would call 'let a thousand flowers bloom or chaos reigns'—and now we've reined in chaos."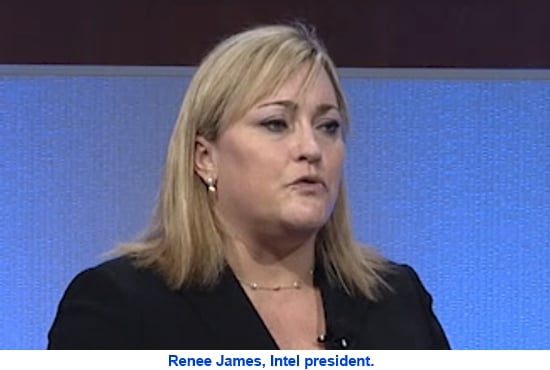 As part of that, James stressed a new dual-approach to foundry services.
The first part is a semi-custom approach providing access to Intel Architecture that can be added to customers' IP cores. The second, a newer element, is a full-custom foundry services approach that will let customers choose their level of engagement, from wafers-only to design, assembly and test services on top of manufacturing. "We deal with the deal on a deal-by-deal basis, not an architecture-by-architecture basis," said James.
As part of the new flexible approach, James stressed that customers could choose between using Intel EDA tools or other tools. James put up a slide including Cadence, Synopsys and Open-Silicon as part of its foundry ecosystem. "We are evolving and expanding our business model," said James. "If a customer values leading-edge, we will engage, even if there is competition with an Intel business."
Related links: