Intel has always prided itself on its huge investments in process technology and manufacturing capabilities. Such large capital expenditures (lately around $11 billion a year) have helped the company become the world's largest chip manufacturer, as well as the proprietor of the most advanced semiconductor technologies. The company considered that technical prowess a key competitive advantage.
Not anymore, apparently. With the PC market in decline, Intel's microprocessors aren't selling as strongly as they used to, and the company is sitting on lots of extra, expensive fab capacity. What to do? The obvious move, but a surprising one for a company that has always held its manufacturing capability so close to the vest: sell it.
That's a substantial change in business model for Intel. Can it pull it off? The jury is still out. No one doubts the quality of its technology, but Intel has never had to please any other semiconductor company besides itself. Some analysts question whether the chip giant understands, and can master, what it takes to be a successful foundry.
Testing the waters
The company started dipping its toe into the foundry business in 2010, taking on a few small customers. Its first announced customer was programmable logic startup Achronix Semiconductor. In 2012, it signed another startup focusing on programmable chips, Tabula, and expanded a strategic partnership with network processor Netronome Systems. Then, the customers started to get bigger. In early 2013, Intel signed Microsemi Corp., a $1 billion company that sells analog and mixed-signal semiconductors, and Altera, a $1.5 billion FPGA vendor.
Intel's CEO at the time, Paul Otellini, downplayed Intel's foray into the foundry world, telling analysts that Intel would consider only strategic deals. "We don't see ourselves as a general-purpose foundry," he said.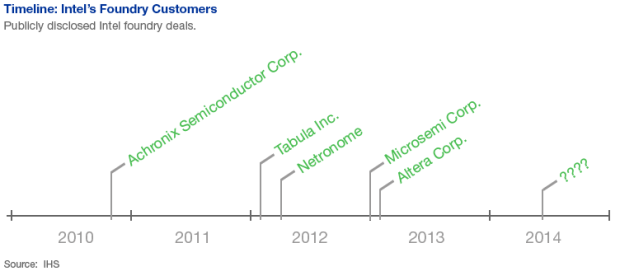 But the PC market has continued its freefall and Intel has seemingly failed to find a way to make up the difference. According to IHS, desktop and mobile PC shipments have fallen every quarter since Q2 2012. In January, Intel said it would delay opening its Fab 42 in Arizona, while insisting that its fab utilization remained at 80 percent. In its latest earnings report, the company forecast flat revenue for this fiscal year and said it planned to cut its workforce by 5 percent.
Meanwhile, Brian Krzanich's succession of Otellini as CEO last May put a manufacturing expert at the helm of Intel. Krzanich came up through Intel's manufacturing organization. "He's a dyed-in-the-wool manufacturing guy," said Len Jelinek, senior director and chief analyst at IHS Electronics and Media. Krzanich started Intel's eight-inch fab in Hudson, Mass., where Intel had already been doing a small amount of custom foundry work (less than $8 million a quarter) for a decade, he notes.
And as COO since January 2012, Krzanich had overall responsibility for Intel's manufacturing. "Krzanich recognizes clearly that there's an opportunity to get others to help pay for Intel's fabs," said Jelinek. "There's money to be made out there."
Indeed, Krzanich has taken a more expansive view of the potential market for Intel foundry services. In November, he said that Intel was opening up its foundry business. "If we can utilize our silicon to provide the best computing, we'll do that. People who can use our leading-edge technology and build computing capabilities that are better than anyone else's, those are good candidates for our foundry service," Krzanich said at the company's annual analyst day. And that would include competitors—at least that's how some analysts interpreted the comments. (Intel didn't respond to requests for an interview on its foundry strategy.)
In fact, some point to Intel's deal with Altera as proof. Altera announced more details about the deal in October. Specifically, it said Intel would be manufacturing Altera's Stratix 10 chips, which include four ARM Cortex A-53 cores, using 14-nm, 3D transistor technology. That means Intel will be using its most advanced technology to build a product based on ARM—its chief competitor in the mobile chip market. But the Altera chip won't compete with Intel products, said Nathan Brookwood, research fellow at consulting firm Insight 64. "These are FPGAs with ARM cores. No one is going to use an FPGA to compete with Intel processors."
For Jelinek, this indicates that Otellini's words are still true. "Intel is not a general-purpose foundry," he said. Its foundry model focuses on delivering leading-edge technology to a few key companies that are not building products in the same market space. He pointed out that, unlike general-purpose foundries, Intel is not building products with older technology or that use larger geometries.
The superior process?
Altera chose Intel because it wanted the most advanced process technology available, said Danny Biran, Altera's senior vice president of corporate strategy and marketing. The combination of Intel's 14-nm process and its "Tri-Gate" transistors offers the low power and high performance needed for Stratix, Altera's next-generation, high-end product. "When we looked at the foundry landscape , it was very clear to us that Intel was in the best position to give us those capabilities in the time frame we wanted them," he said. But Altera is staying with its regular foundry—TSMC—to manufacture Altera's mid-range Arria 10 using TSMC's 20-nm process. "We are working with both," stressed Biran. "It's just a function of what is needed. The high end requires the performance and power that we could only get from Intel."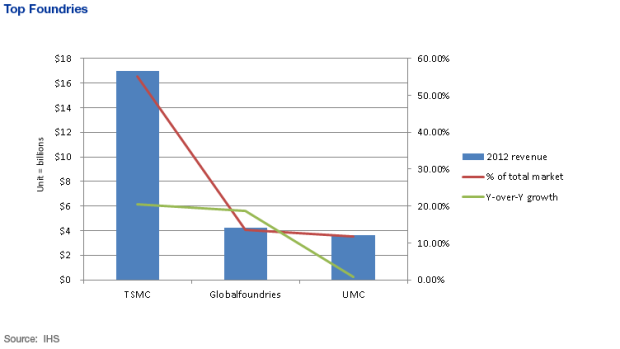 However, Daniel Nenni, a foundry consultant and founder of the Semiconductor Wiki Project, questioned whether Intel is that far ahead of other foundries in process technology. He said that TSMC, GlobalFoundries and Samsung are in the tape-out phases for 14 nm (or in some cases 16 nm, which Nenni said is comparable). "I do wafer agreements, so I know this for a fact," he said. Since it's usually a year between tape-out and manufacturing, he expects to see those foundries in production in late 2014 or early 2015. Intel is now manufacturing its own products in 14 nm, but Altera has said that its 14-nm chips won't tape out until late 2014, with shipping to start in 2015. "So really the other foundries are on a par with Intel," said Nenni.
Meanwhile, Brookwood said he's still waiting for Intel to strike a deal with a real competitor. "I thought that once Intel dropped that constraint, there would be a few companies lining up," he said. But that hadn't happened as of early February. As it turns out, "it's not just that Intel was reluctant to make competitive chips, it's that competitors were reluctant to use Intel for foundry operations," he said.
Where are the big boys?
Why? There are several reasons. First, there is concern over sharing competitive information, said Brookwood. In a foundry relationship, customers share details on product plans, designs and expected shipments. Even with a "Chinese wall" in place between foundry and design operations at Intel, potential customers are understandably nervous. "If Intel was going to make 100 million of something, where Intel might need extra fab capacity, that could get reviewed at the highest levels of the company and therefore could set off alarm bells for the product guys," Brookwood said. And information from customer designs, even if they are only at the mask level, could potentially be used against customers who are competitors, he added.
Second, Intel lacks a good ecosystem. Large fabless semiconductor companies, like Qualcomm, have or can easily procure the IP they need for a system-on-a-chip (SOC). Smaller customers, however, must rely on third-party IP for functions like WiFi and memory interfaces, said Brookwood. TSMC and other foundries already have such IP ported to and verified on their processes, a key factor that ensures customers can get their chips to market fast. "It's like, pick three functions from column A and two from column B to create your SOC," noted Brookwood.
It is a key factor that helps customers get their chip to market fast. But Intel doesn't have a good supply of third-party IP ported to its processes. In fact, Intel had to go to TSMC for one of its own chips because of this. Late last year, the company announced TSMC would be making SoFIA—Intel's integrated applications processor targeting the low-end smartphone and tablet market. Brookwood speculated that "in order to get all the pieces Intel needed for that SOC, it was easier to port Atom to TSMC's 28-nm process, which supports all those other blocks, than it was for Intel to make the chip itself," which would require porting the needed IP to Intel's 22-nm and 14-nm processes. Intel has said that it would manufacture the next generation of SoFIA itself.
In addition, Intel doesn't yet have third-party design tools or process design kits available, according to Nenni. "Intel doesn't have the ecosystem it needs to be successful yet," he said. "The companies that I know that have evaluated Intel's 14-nm say that it's a good process" but are scared of designing products based on it because of this lack of ecosystem, he explained.
Third, potential customers are nervous about assured manufacturing capacity. What happens if Intel's sales improve and it needs to make sure it can fill orders for its own chips? According to Brookwood, Intel has shown favoritism in the past, although it was not in connection with foundry service. In the past, when Intel was unable to make enough chipsets to supports its microprocessors, the company gave preference to large customers with whom it had tight relationships, he said. "Those kinds of experiences are remembered for a very long time," he said.
Jelinek, however, thinks it's unlikely that Intel would give preference to its own internal needs. Rather than risk alienating customers, it would likely spend aggressively and build more manufacturing capacity, he said.
In short, there are a lot of unknowns about how Intel will run its foundry business. And some analysts think it may be because Intel doesn't know how to run a foundry business. "The concern I have is that their whole team is made up of long-term Intel guys," said Nenni. "They are not foundry guys at all."
But Altera is apparently comfortable. Intel's relative inexperience was "part of what we focused on when we did the due diligence" before signing the deal, said Biran. Plus, at this point Intel has just a handful of customers, most of them small. "It's not like they need to have the infrastructure today to support dozens of different customers, big and small, from different markets," he said. And being guaranteed a certain amount of capacity doesn't seem to be a concern. Biran noted that FPGAs aren't a high-volume product, compared to a lot of other types of ICs, and so don't require a lot of wafers.
Most observers think Intel's goal is to secure a very large customer to fill its fabs. Apple could be the ideal match. "Intel is the world's leader in semiconductors, and Apple has some of the most innovative products in the consumer market," noted Jelinek. Apple is not a competitor, it has had a long-standing relationship with Intel and it is trying to reduce its dependence on Samsung for IC manufacturing.
"If I was the sales guy in charge of selling foundry services at Intel, I'd be focusing a lot of attention on Apple," Brookwood said.
But even if it doesn't nab that account, Brookwood is looking for Intel to bring in a big fish of some kind, such as Qualcomm or Broadcom, to secure its place in the market. "That would be the final step in Intel moving from being an integrated manufacturer of its own stuff to being competitive in the foundry business."
Related stories: