Intel CEO Brian Krzanich Tuesday announced a new family of processors targeting low-power applications in emerging segments like wearable computing and the so-called Internet of Things.
Delivering his first Intel Developer Forum (IDF) keynote address since taking over for Paul Otellini in May, Krzanich said the Quark family of system-on-chip (SoC) devices would be Intel's smallest ever SoCs at approximately one-fifth the size of the company's Atom chips. He said the Quark devices would consume about one tenth of the power compared to Atom processors.
Krzanich said the Quark devices would feature "lower power and a small form factor than I think anyone thought the Intel architecture could go."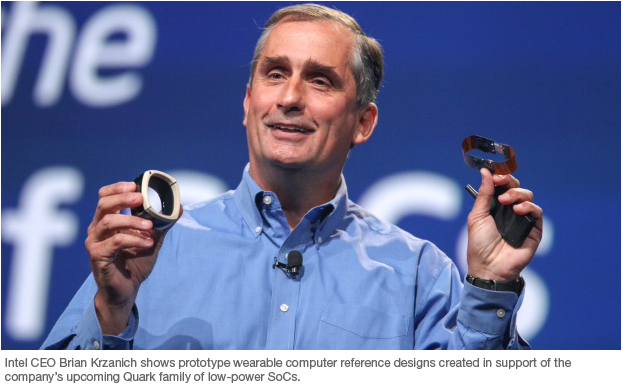 Intel plans to begin sampling reference boards based on the first Quark product during the fourth quarter of this year. The reference boards, which will be created for sample applications for things like wearable computing, are designed to help customers accelerate the development of products initially aimed at the industrial, energy and transportation segments, Intel said.
Quark processors will be fully synthesizable, enabling customers to integrate their own IP blocks with them on chip, Krzanich said. The devices could potentially be built for customers by third party foundries like TSMC, but the current plan is for all Quark processors to be made by Intel, Krzanich said.
The markets for both wearable computers and the Internet of Things are still in their infancy. Eventually each are expected to be worth tens of billions of dollars per year.
Krzanich was joined on stage Renee James, who was named president of Intel in May. James spoke for about 30 minutes about the potential applications of integrated high-performance computing in areas such as health care. She described her vision for an era in which every device and every object computes and said that integrated computing solutions must be smaller, faster, more versatile and produced in higher volume.
During her remarks, James declared that Moore's Law is still alive and well at Intel, despite frequent predictions of its demise. "I can assure you that it's alive and well," she said, adding that Intel has its 14-nm process technology ready to go and that the company can "see beyond that."
While Intel has to date struggled to gain meaningful market share in mobile computing devices like smartphones and tablets, Krzanich pledged that the company would achieve success in those areas as well as maintaining leadership in servers and PCs and take the lead in emerging segments like wearables and the Internet of Things. "Our plan is to lead in every segment of computing," he said.
Also at IDF on Tuesday, Intel introduced its Xeon Processor E5-2600 v2 product family (codenamed Ivy Bridge-EP) for the servers, storage and networking infrastructure found in datacenters. Intel said the new 22-nm Xeons, featuring as many as 12 cores, would offer greater efficiency and flexibility, enabling the delivery of services for high performance computing, cloud and enterprise segments.
In his first IDF keynote, Krzanich touched on several other topics, including:
14-nm. Krzanich demonstrated a a fanless notebook PC based on a 14-nm chip using Intel's newest microarchitecture, Broadwell. The 14-nm chips are set to begin production by the end of this year, he said. "Fourteen nanometer is here, it's working, and will be shipping by the end of this year," Krzanich said.

Innovation in the PC space. Krzanich said that the PC is "in the process of reinventing itself" and that there is currently more innovation going on in the PC space than he had ever seen before in more than 30 years in the industry. He touted Intel's work on the development of "two-in-ones"—systems that can function as a notebook PC but have a detachable touchscreen that can function as a tablet. He said there would soon by 60 such system on the market featuring with an Intel Core processor or a Bay Trail Atom processor at price points as low as $400. "This is where the PC is headed," Krzanich said.

Tablets. Krzanich said a Lenovo tablet with an Atom processor and showed video of several other Intel-based tablets. Some of these tablets that will be available by the 2013 holiday season have price points below $100, he said.

Bay Trail. Krzanich said Intel would introduce Bay Trail, Intel's first 22-nm SoC for mobile devices, later this week. Bay Trail is based on Intel's new low-power, high-performance Silvermont microarchitecture. Implementing the device in 22-nm process technology gives it a 50 percent improvement in performance and extended battery life, he said.