Autonomous or self-driving cars are no longer the stuff of science-fiction. They exist in several, albeit expensive, forms today, including vehicles that competed in DARPA's Urban Challenge in 2007 and Google's autonomous vehicles that can be seen on California's roads today, to prototypes unveiled recently by Audi and Toyota.
Advocates of the technology look to eventually have a vehicle you can get into, tell where to take you and be delivered to your destination safely without touching the controls – much like the analog experience of calling a cab for a night on the town.
The impact could be profound. Self-driving cars have the potential to reduce road fatalities and the more than 90 percent of collisions caused by human error, noted Anthony Levandowski, business lead for Google's Self-Driving Car project, at an SAE meeting last year.
But how close are we to having autonomous vehicles in our garages at a price we can afford?
"We are in the 'intermediate' stage of autonomy," said Jeremy Carlson, analyst for advanced driver assistance systems at IHS. "We are there technologically, but we are not there cost-wise."
Hardware and sensors are not the obstacles, according to Carlson. It's the software required to make sense of the sensors, integrate information, and hand off control back and forth with the driver.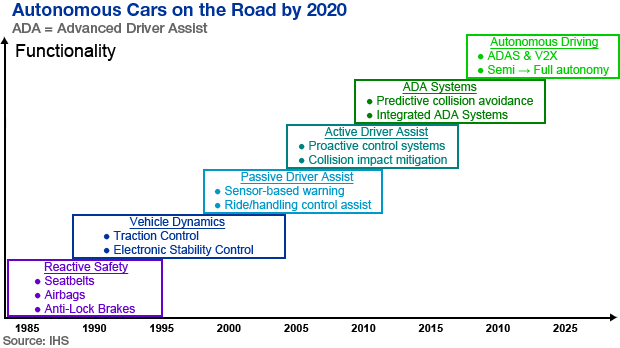 Case in point is the rotating laser detection and ranging (LIDAR) technology that "images" the surroundings atop Google's self-driving Prius. Carlson estimates that the system costs about $70,000. Of course, not all sensing systems are as costly as LIDAR, especially when factoring in production at mass-production quantities.
Mercedes just extended the capabilities of its current stereo vision system that reads a variety of European road signs including do-not-enter, speed limit, do-not-pass and direction signs. Drivers operating cars today with such advanced safety systems are willing to pay $2,500 to $3,000 for these improvements, according to Sascha Simon, head of Advance Product Planning for Mercedes in the U.S.
Other systems that will form building blocks of an autonomous vehicle – and add cost – include lane departure warning/lane keeping, radar-based automatic cruise control and distance control and emergency-braking and collision-prevention assist.
True, some systems are mandated by law, such as tire-pressure monitoring and electronic stability control, but customers are demanding more convenience and connectivity technology that increases the sticker price. Who today would want a car (if you could find one of the few) with manual window cranks?
The tipping point in the transition to fully autonomous cars, according to Carlson, will occur when the cost comes down to the point where the systems can be integrated into cars for the mass market. He predicts that will take about a decade.
Trust in the software
Of course, cost is not the only gating factor. Trust plays a role too. Customers will have to accept relinquishing control for autonomy to be viable. Auto makers are easing buyers into accepting autonomy by gradually adding features. But convincing them that the car is reliable and a better driver than they are is an uphill battle.
For autonomous vehicles to be trusted, software for sensor fusion, vehicle control and driver interfaces must be foolproof. One challenge is how to keep the driver in the loop, according to Nady Boules, General Motors' director of electrical and control integration research. For instance, any hand-off between driver and car must leave no room for misinterpretation, he cautioned.
Another key software driver is how the vehicle "understands" the world around it, and how does it make correct decisions.
Consider construction zones, where the road configuration changes daily. Google's map-based navigation technology requires timely updates or more localized navigation capability, which is a challenge for navigating through or around these zones, according to Googles's Levandowski.
Or what happens if a sensor or actuator failure occurs? How does the car release control back to the driver? The driver can't be expected to take over immediately upon a failure. Redundancy of sensors is one option, but the driver will need time to safely transition – which could be upwards of 10 seconds. "More data on transition timing is needed," said Levandowski
According to IHS' Carlson, the industry has about a decade to figure it out and to earn the trust of the average driver.