Action Star Technology, a manufacturer of USB productivity solutions based in Taiwan, will showcase its industry-leading docking solutions at Computex 2023 in Taipei, Taiwan, May 30 through June 2. The company will offer the very first live demonstrations of its three all-new USB4 penta-4K120, wireless and eco-responsible docking stations that aim to help users maximize productivity, performance and sustainability.
USB4: Supercharged Penta-4K120 performance
USB4 is the latest technology in connectivity and expansion. Pairing the versatility of USB with the performance of Thunderbolt 3 and Thunderbolt 4, USB4 offers compatibility and feature parity with all these technologies.

Action Star's USB4 docking stations are the world's first docking stations to leverage USB4, ​​Synaptics VMM9430, and DisplayLink DL-7400 to enable connections to more monitors at higher resolutions and refresh rates.

Action Star's USB4 Penta-4K120 docking station offers several benefits over other docks: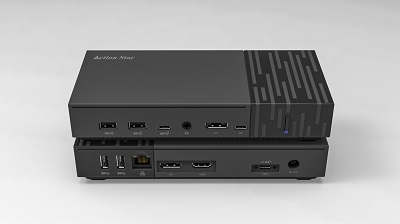 Source: Action Star Technology

• World's first penta-4 K120 docking station
• No-compromise 5x 4 K/120 Hz video output
• Supports up to five monitors: 1x native DisplayPort, 4x DisplayLink outputs
• Native display port output: Supports up to 8 K/85 Hz using DSC (8 K/75 Hz for HDR)
• DisplayLink outputs: Up to quad 4 K/120 Hz or dual 8 K/60 Hz with HDR10 support
• Universal docking: Supports Windows, macOS, ChromeOS, and Linux devices
• Backward compatible with USB-C/USB 3.x

Action Star's USB4 Triple-4K60 MST docking station offers next-gen performance including:

• Supports up to three monitors: 3x 4K/60Hz outputs
• Plug-and-play: No drivers or apps necessary

Wireless: Dual 4K/60Hz with imperceptible latency
Anyone who has tried to wirelessly cast their desktop understands how underwhelming the experience can be. Bid a nostalgic farewell to agonizing latency, ruined presentations and random troubleshooting sessions and say hello to a seamless wireless productivity experience that won't let you down or cut you off.

Action Star's wireless docking station features:
• Based on Synaptics' Gemini platform
• Dual 4K/60Hz output
• Imperceptibly low latency
• Peer-to-peer Wi-Fi 6 connection is performant even in congested environments
• Industry-leading MA-USB implementation

Eco-responsibility: Designed for sustainability
As consumers and businesses become increasingly aware of their impact on the environment, products need to be built with a sense of eco-responsibility. Action Star is committed to creating products that help reduce electronic waste.

Action Star's Dual PD-in Docking Station was designed with eco-responsibility in mind:
• Allows input from a second USB-C charger to boost laptop charging efficiency
• Housing is made with post-consumer recycled plastics

Using PCR materials and designing for the reuse of old USB-C chargers helps reduce e-waste, said Leo Yu, general manager of Action Star Technologies. "A key focus for Action Star in the coming years will be eco-responsibility," Yu said. "We will be adopting new technologies that boost energy efficiency, using PCR materials to keep them out of landfills, pursuing ecolabel certifications, and designing products that give new purpose to obsolete devices."

Visit the Action Star booth (N0507a) at Computex 2023 to see these new products in action and learn more about Action Star's strategy for eco-responsibility.