Volvo Penta has developed an advanced self-docking solution, targeted for launch in 2020. The Volvo Group has been conducting research into autonomous vehicles and the transport systems for several years, and has produced a number of examples of self-driving concept vehicles for use in restricted areas, such as mines and ports.
In a live demonstration, a 68-ft yacht fitted with the technology skillfully maneuvered itself into the tightest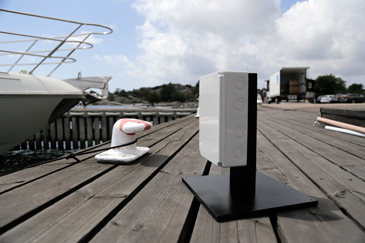 Sensors on the berth help guide the yacht safely into its docking position. Source: Volvo Pentaof spaces between two of Volvo Ocean Race 65 racing yachts in Gothenburg, Sweden. The joystick-controlled Volvo Penta Inboard Performance System (IPS) forms a complete and integrated propulsion system.
The automated docking capability stems from the onboard electronic vessel control system, which computes steering and drive calculations in relation to the boat's actual position and four sensors sited on the intended berth. As the boat nears its berth, the system recognizes that it has entered a 'catch zone' and sends out a signal to the captain that it is ready to dock. After the self-docking function is activated, the boat is automatically moved into a 'docking ready' position with the aid of GPS. In the final stage, the system uses a combination of GPS and sensors, with both fitted onboard and additional sensors fitted to the destination dock to automatically move the boat into a safe berth.
In the near term, Volvo Penta's self-docking system will target individuals who can install the system on their own private docks. Longer term, the technology will be of considerable interest to harbors and marinas, allowing IPS-equipped boats fitted with the system to dock in complete safety and accuracy. An additional future scenario for the self-docking system is that it could be integrated with Volvo Penta's Easy Connect application, which could allow users to check if the nearest marina is equipped with the appropriate self-docking technology or to secure a parking space.
The company cautions that, as with similar 'self-parking' technology in the automotive world, the docking system is not designed to be fully autonomous. While the system will also feature surround sensors that provide anti-collision alert and avoidance, the captain needs to remain at the helm during the docking process, ready to intervene if necessary.