The development of a flexible, textile-based electrochemical supercapacitor brings the promise of wearable electronics technology closer to reality. The wearable power patch incorporates MXene, a conductive 2D nanomaterial, as a coating to imbue wearable electronics with the desired conductivity, durability, impermeability to electromagnetic radiation, and energy storage capacity.
Researchers from Accenture Labs and Drexel University configured the MXene textile supercapacitor patch with the goal of maximizing energy storage capacity while using a minimal amount of active material and space to reduce production cost and preserve flexibility and wearability of the garment.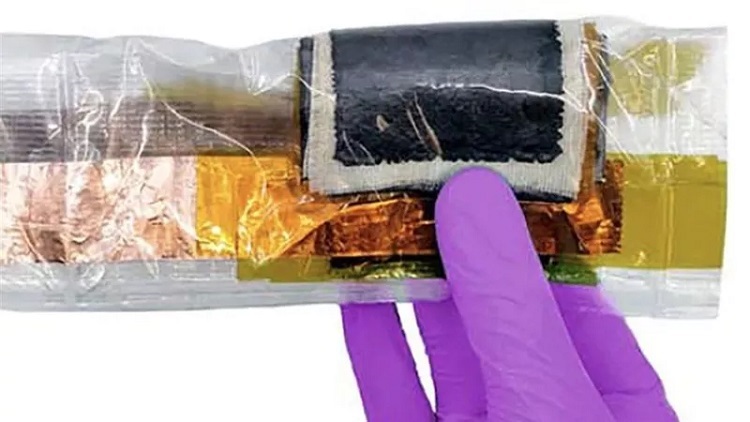 The flexible textile supercapacitor patch can power a microcontroller and wirelessly transmit temperature data for nearly two hours without a recharge. Source: Drexel University
Small samples of woven cotton textile were dipped into an MXene solution, after which a lithium chloride electrolyte gel layer was applied. Each supercapacitor cell consists of two layers of MXene-coated textile with an electrolyte separator also made of cotton textile. Five cells were stacked to form a 25 cm2 power pack capable of charging to 6 V and powering Arduino programmable microcontrollers.
As reported in the Journal of Materials Chemistry A, the best-performing supercapacitor platform powered an Arduino Pro Mini 3.3 V microcontroller that was able to wirelessly transmit temperature every 30 seconds for 96 minutes. The device maintained this level of performance for more than 20 days, delivering an energy density of 0.401 mWh cm2 at a power density of 0.248 mW/cm2.
This woven power source offers potential to support motion trackers, biomedical monitors and other devices in a flexible textile form.