Researchers at Case Western Reserve University have developed flexible wire-shaped microsupercapacitors that can be woven into clothing items like jackets, shirts and dresses.
The team developed the capacitors, which charge and release energy much faster than batteries, in an attempt to create a less conspicuous power source.
"The area of clothing is fixed, so to generate the power density needed in a small area, we grew radially-aligned titanium oxide nanotubes on a titanium wire used as the main electrode," says Liming Dai, the Kent Hale Smith Professor of Macromolecular Science and Engineering. "By increasing the surface area of the electrode, you increase the capacitance."
How it works
The team's supercapacitor includes a modified titanium wire coated with a solid electrolyte made of polyvinyl alcohol and phosphoric acid. The wire is wrapped with either yarn or a sheet made of aligned carbon nanotubes, which acts as the second electrode. The titanium oxide nanotubes, which are semiconducting, separate the two active portions of the electrodes, preventing a short circuit.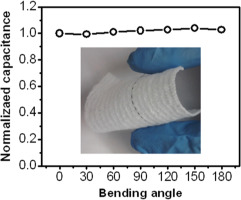 The wire-shaped microsupercapacitor woven into a white textile without bending. (Image Credit: CWRU/ Science Direct)In testing, the microsupercapacitor retained at least 80% of its capacitance after 1,000 charge-discharge cycles. According to the researchers, the wire-shaped capacitors can be connected in series or parallel to raise voltage or current.
When it came to flexibility, the capacitors could bend up to 180°, hundreds of times while maintaining performance.
"They're very flexible, so they can be integrated into fabric or textile materials," says Dai. "They can be a wearable, flexible power source for wearable electronics and also for self-powered biosensors or other biomedical devices, particularly for applications inside the body."
Dai's team is now working on weaving the wire-like capacitors into fabrics and will then incorporate them into wearable devices.