The next generation in power semiconductors will be driven by silicon carbide (SiC) technology to serve the rapidly growing battery electric vehicle market and charging infrastructure, address the increasingly high requirements of new energy efficiency standards, and meet the growing need for higher power density and smaller system size in industrial and renewable energy segments.
Existing SiC evaluation kits on the market not only provide engineers with a narrow set of components that can be tested but are focused only on only the SiC device. Given today's time-to-market pressures, Wolfspeed has responded to designer needs with a modular approach that makes it much easier to test a variety of parts quickly and cost-effectively.
The new SpeedVal Kit is a modular evaluation platform concept that offers designers working with SiC building blocks for unmatched versatility, customizability, and quick and easy system-level testing. The platform not only offers the ability to rapidly test various topologies with a wide variety of SiC products,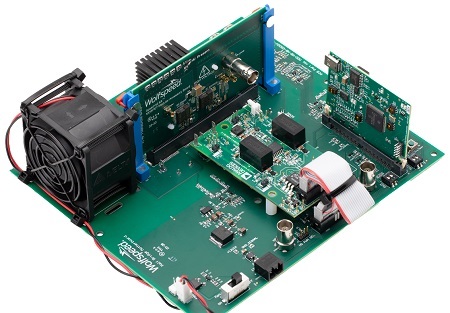 Source: Wolfspeed including Schottky diodes and metal oxide-semiconductor field effect transistors (MOSFETs), in both surface-mount and through-hole packages but pulls together a whole ecosystem of building blocks that allow effective system evaluation. This allows engineers to configure and test all aspects of the power converter including the controller, gate driver, magnetics and of course SiC devices. This approach reduces the risk and time for customers to develop their own system by allowing them to test all the critical components together in this evaluation platform.
The platform consists of a motherboard, power daughter card, gate driver card, optional control card, as well as other potential accessories. The "drop-in" approach allows designers to test all Wolfspeed discrete devices up to 1,200 V paired with a range of gate driver options from multiple manufacturers. A unique card-edge connection to the power daughter card enables engineers to change SiC devices in seconds without soldering, while maintaining a low-inductance connection to the DC bus to provide optimal switching performance.
The new SpeedVal Kit enables designers to optimize the gate drive system and measure reverse recovery charge and switching loss, timing, overshoot and switching speed. Engineers can also adjust gate resistance to optimize switching behavior and evaluate all discrete SiC MOSFETs up to 1,200 V across a wide range of packages.