Automation can improve the quality, efficiency and safety of any manufacturing facility. However, it can be difficult to determine which areas of the plant will benefit the most from automation, and how quickly the plant will realize a return on investment.
Systems to automate
The first step is to identify areas that can be automated. A good place to start is to look at what tasks are dangerous, where automation can improve the safety of the process. From there, also look for tasks that are prone to error, such as inspections and measurements, where automation may increase the consistency batch to batch or throughout a continuous process. Also, check tasks that workers find boring or repetitive; these may be the ones that technicians secretly (or not-so-secretly) dread. Compiling a list of these tasks is a good starting point.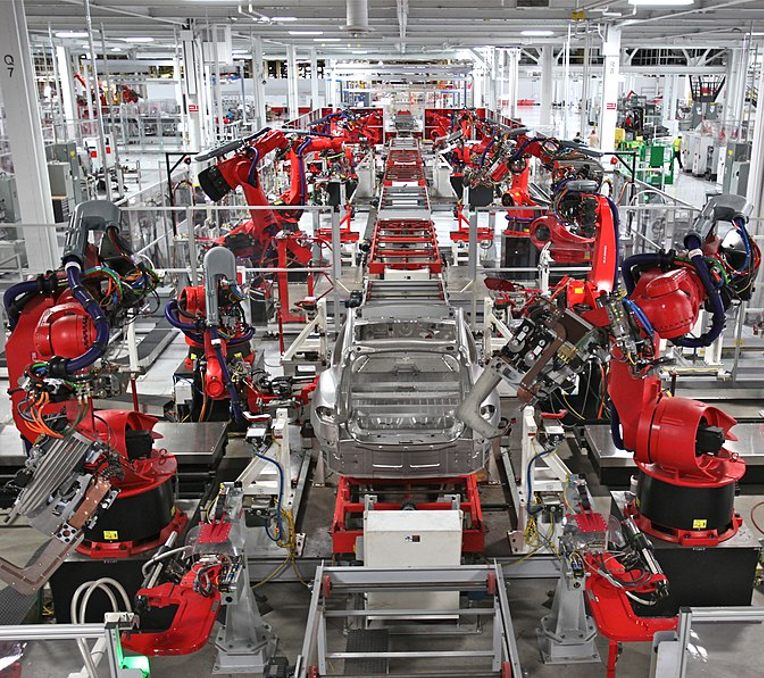 When people think of automation, they think of robot centers like this Tesla plant. Those robots are busy improving plant safety, quality and efficiency. Source: Steve Jurvetson/CC BY 2.0
Automating for safety
One of the biggest drivers for automation is to improve the safety of workers in the facility. In theory, any task that can be performed more safely by a machine should be. Look for the procedures where technicians are taking "shortcuts," routinely skipping personal protective equipment (PPE), bypassing engineering or administrative controls and other such tell-tale signs. When in doubt, ask. Ask where they feel there is a hazard, or where do safety procedures seem unnecessary; these will be prime targets for automation.
Automating for quality
Repetitive or boring tasks, such as some inspections and measurements are another area ripe for automation. Measurements can be performed much more consistently by machine than by hand, and with fewer erroneous measurements.
With the advances in machine vision, even visual inspections can begin to be automated. Machine vision can be used for detecting leaks in seals, alignment of assembled components, dimensions, properly tightened fasteners, small cracks, color consistency and many other quantities.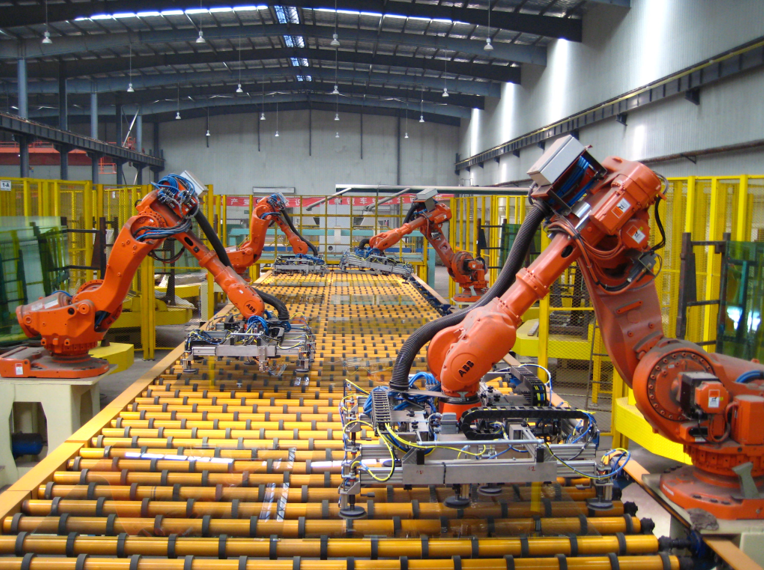 These robots are handling float glass for windows. They will crack and break fewer than their human counterparts, as they can apply consistent, even forces when lifting the parts every time without tiring or miscommunicating between workers during lifting. Source: ICAPlants/CC BY-SA 3.0
Automating for efficiency
Once again, repetitive or boring tasks can be automated. Tasks that bore the workers are often performed poorly, unsafely or with little care. Nobody wants to tighten the same four screws for an eight, 10 or 2 hour shift every day, and if they are expected to do so, some of them are simply not going to be tightened properly. Furthermore, a bored employee is one that is not being fully utilized by the plant, meaning their talents and abilities are being wasted, often on menial tasks.
Robots can move faster, require fewer breaks and can be programmed to perform the same job over and over again. Instead of having an employee tighten four screws on each part, consider that a robot can be fitted with the proper jig that will allow it to tighten all four at once, maybe even automatically loaded with screws. This will drastically speed up the assembly time and increase throughput. It will also free up the employee's time so that they can perform more challenging tasks that better utilize their skills and abilities.
Listen to the workers and hear which tasks are boring or repetitive. Look for the areas where there is a lot of "hurry up and wait," such as machine tending, loading and unloading operations, assembly tasks, marking tasks (for machining, identification, quality) and others.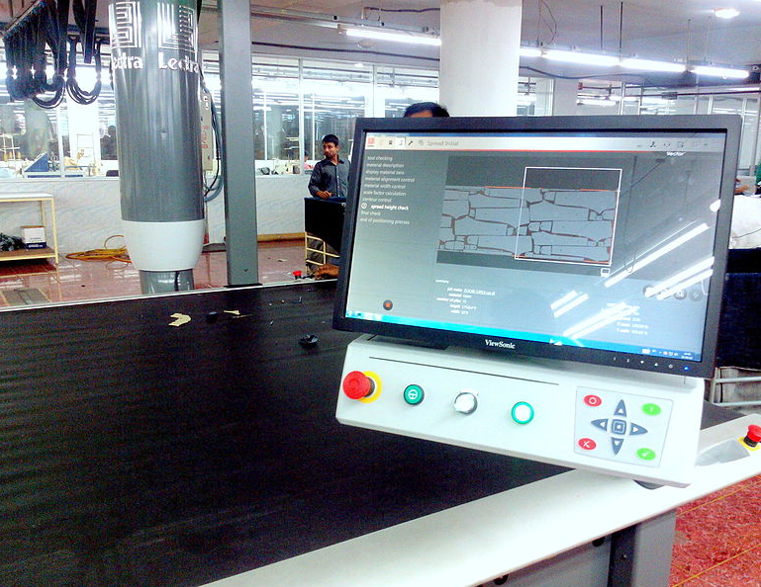 This machine can cut denim for jeans much more quickly than humans. It will generate little waste and will not expose workers to sharp objects during the cutting operation. Source: Fahad Faisal/ CC BY-SA 4.0
Prioritization
It is relatively easy to develop a large list of potential automation projects and the temptation is to jump in with both feet and automate it all. However, after a few quotes for systems arrive, it is equally easy to become discouraged. Instead, prioritize which areas should be automated first.
Automation for safety is likely the first place to begin. Risk management personnel should evaluate the likelihood and the severity of possible injuries so that a comprehensive safety plan can be established. This safety plan may or may not include automation, and the safest course of action may not require automation at all.
Look for the largest bottlenecks in the process. Which operations cause the largest impacts to quality or throughput? These tasks will be the next best candidates for automation. Look for the areas where semi-finished goods are accumulating and consider automating the processes downstream of that accumulation.
It is also tempting to automate processes based on the costs of automation. This can lead to inefficiencies as well. Suppose a large bottleneck requires a large investment in robotics, but a smaller, upstream automation project has a lower price tag. The temptation is to buy an automation system for the upstream project. By doing so, throughput upstream has increased, meaning more product is getting trapped downstream, compounding the large bottleneck. Sometimes, it is better to pool resources, delay smaller projects and so on to address the larger bottleneck, even if it has a much higher cost.
A note about automation versus manual labor
There may be some pushback when developing automation systems for manufacturing. There are many stories of robots "replacing" employees, leading to layoffs and downsizing. The fact of the matter is that jobs that can be replaced by a machine likely should be. If a job is dangerous, send a robot instead of risking a worker's safety. If a job can be performed more accurately and faster, it will be; if a facility decides not to automate these tasks, their competitor likely will automate them. Once they have done so, it is only a matter of time before the layoffs and downsizing occur anyway.
Automation also offers tremendous opportunities for upskilling the workforce. Instead of performing menial tasks, they can learn about sensors, actuators, electronics, programming and machine troubleshooting. They can be cross-trained in other areas where automation is not possible or affordable in the foreseeable future, or to develop a well-rounded workforce that understands the process from start to finish.
Final thoughts
Improving plant safety, efficiency and quality will involve automating certain tasks and processes. Continuous improvement means constantly evaluating processes and looking for where safety, efficiency and quality suffer, and this information can be gathered by listening to those on the front lines — the technicians, employees and engineers who are managing the processes — as well as finding where semi-finished goods are accumulating.

Another important part of automating the plant is keeping up-to-date with automation solutions that hit the market. Plenty of automation companies provide free electronic mailing lists for product announcements, demonstrations and consultations. At worst, these emails can be discarded when not needed, but sometimes a company will develop the solution that nobody knew was needed — and now they can't live without.