Industrial technology manufacturer Littelfuse has unveiled the new eFuse Protection ICs product line, a series of four versatile circuit protection devices.
The eFuse Protection ICs utilize an innovative design that provides a wide range of power input (3.3 V to 28 V) and integrated protection. In addition to overvoltage protection, these electronic fuses protect against overcurrent, short circuit, inrush current, reverse current and overtemperature events with real-time diagnostics — all in one chip.

The eFuse Protection ICs are ideal for use in a wide range of consumer electronics and data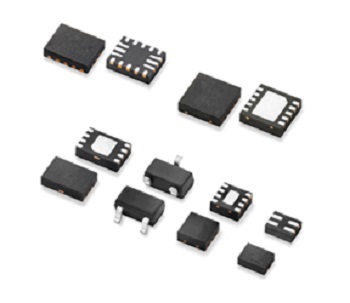 Source: Littelfuse Inc. communications interfaces, including:
Bluetooth headsets
Wearable devices
Tablet PCs
Charging cables
Battery devices
Adapter-powered devices
Networking
PCs/notebooks
Datacom power systems
Fan power controls
HDD and SSD storage drives
Industry 12 V/24 power input/output
"The eFuse Protection ICs provide today's electronics designers with significant flexibility by integrating robust circuit protection, sensing, and control in a single chip," said Bernie Hsieh, assistant product manager of the protection semiconductor business team at Littelfuse. "Providing a low power consumption, high accuracy current limiting circuit with quick response time makes them a win-win-win for many portable electronics and datacom applications."
The eFuse Protection ICs offer these key benefits:
Provides a highly accurate current limiter, with faster response time, and more integrated protection features than traditional fuses and PTCs
Incorporates more flexibility such as adjustable overvoltage threshold, current limiting and inrush current, along with true reverse current blocking compared to conventional power switches
Reduces the design-in phase, PC board space requirements, BOM cost and time-to-market when versus typical discrete solutions (e.g., hot-swap controller plus MOSFET)
Improved product reliability, increased battery life, lower repair costs and lengthened overall product lifetime
The eFuse Protection ICs are available in the following series:
LS0504EVT233 — 5 V, 4 A, overvoltage, overcurrent protection, SOT23-3 package
LS0505EVD22 — 5 V, 5 A, overvoltage, overcurrent protection, DFN2x2 package
LS1205ExD33 — 18 V, 5 A, programmable current limit, output voltage clamp, DFN3x3 package
LS2406ERQ23 — 28 V, 6 A, true reverse blocking, fast role swap, QFN2.5x3.2 package
Availability
The eFuse Protection ICs are available in tape and reel format in quantities of 3,000 (LS0504EVT23, LS0505EVD22) or 5,000 (LS1205ExD33, LS2406ERQ23).