Traditional thermal-based blown-link fuses are wonderful devices: inexpensive, reliable and the glass-enclosed ones can be checked visually. They are available from many sources in thousands of voltage, current and package-style combinations. These fuses also offer a wide range of well-defined thermal and current specifications, so a best-fit version can be matched to the application priorities.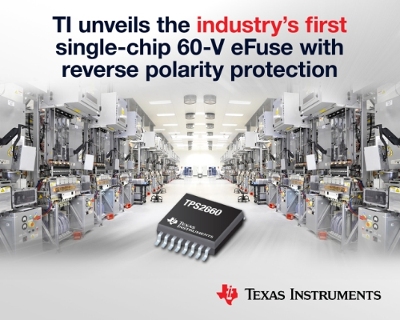 The TPS2660 electronic fuse IC from Texas Instruments includes back-to-back 60-V FETs for sophisticated fuse functions and reverse-voltage protection among its many features, and is well suited for 24- or 48-V applications. (Credit: Texas Instruments)
Nonetheless they might not be the right fuse approach for many situations. They may be too slow for those cases where microsecond-speed protection is needed (after all, they rely on thermal effects); they need manual replacement; and as current-driven devices, they cannot protect against reverse currents or voltages without complex and elaborate circuitry around them.
That is why an all-electronic fusing solution—generically called an eFuse—is an attractive, alternative fuse option. While the eFuse is not a new concept, and there are many eFuses on the market, Texas Instruments claims its TPS2660 addition to its eFuse family is the most integrated device available for power management and protection. The internal back-to-back FETs (with just 150-mΩ RON) increase the range of eFuse protection to 60 V, making it a good fit for 24-V and 48-V rail applications in industrial, automotive and communication infrastructure designs. The many user-settable features allow a single part number to be used across the many power-related sub-circuits of a larger system's design, simplifying the bill of materials.
Among its attributes, the TPS2660 provides reverse-polarity protection to help guard the system load from mis-wiring (often an issue when using screw terminals for cable termination); the reverse-current blocking prevents current from flowing backward from the output side to the input side; and the high level of integration reduces needed board space by up to 40% by eliminating the need for external components. The 60-V FET rating helps designers pass industry-standard surge-compliance tests more quickly and reliably, including electrical fast transient (EFT) and surge (IEC 61000-4-5) tests with minimum external components.
The internal complexity of the TPS2660 is unseen by users, but allows the IC to offer many additional protection functions and features, along with a high level of user programmability. (Credit: Texas Instruments)
The internally sophisticated and complex device (Figure) also provides fault and precise current-monitor outputs for system-status monitoring and downstream load control, which a conventional fuse cannot do. The TPS2660 Mode pin lets users configure it to any of three current-limiting fault responses (circuit breaker, latch off and auto-retry modes). Many others features are user-adjustable as well: over-current (0.1 A to 2.23 A), current limit (±5% accuracy at 1 A), output slew rate and over-voltage, and under-voltage thresholds.
Design-in support is available via the PSpice Transient Model as well as an Evaluation Module. The TPS2660 is packaged in 4.4 × 5 mm, thin-shrink small-outline package (TSSOP), and is priced at US $2.20 each in 1,000-unit quantities.