Heilind Electronics (Heilind), a global distributor of electronic components, was recently recognized with the Best Performance in the Americas award by Amphenol, one of the world's largest providers of high-technology interconnect, sensor and antenna solutions. This distinction is given to the distributor who demonstrates the highest point-of-sale growth in a region throughout the calendar year.
The award was presented to Heilind executives by Amphenol CEO Adam Norwitt at the company's annual VIP Dinner and Awards Ceremony held on May 11 in Las Vegas, Nevada, during the Electronic Distribution Show.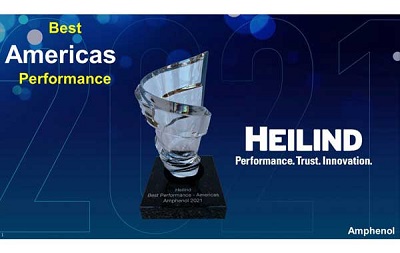 Source: Heilind Electronics This is the fourth time in the last seven years that Heilind has earned the Amphenol award.
"This achievement is a result of the efforts of our dedicated team members – from sales to our warehouses," said Alan Clapp, senior vice president at Heilind. Clapp continued, "To again be acknowledged amongst Amphenol's many distributors is a reflection of our ongoing commitment and dedication to innovation, supply chain integrity, and service excellence."
As an authorized distributor for more than two dozen Amphenol divisions, Heilind is one of the manufacturer's leading distributors globally.