Baidu and Pony.ai can now test robotaxis without a safety driver in Beijing, China for the first time.
Baidu and Pony.ai are the only two companies in Beijing that previously were allowed to charge for autonomous vehicle ride hailing. However, these rides came with a safety driver.
The permits allow the companies to offer ride hailing without anyone sitting behind the wheel as a safety driver within a 23 square mile area in the Beijing Economic and Technological Development Zone. Pony.ai said it will still have safety drivers in the front passenger seats but it could deploy driverless vehicles in the future.
The move comes only a few days after Pony.ai announced it received a taxi permit to use its autonomous vehicles as a taxi service in the Nansha region of Guangzhou, China.
About 300,00 residents will be in the area that can hail a driverless robotaxi from either Baidu or Pony where they will be eligible to be picked up or dropped of at locations such as subway stations, parks, stadiums, business centers and residential areas.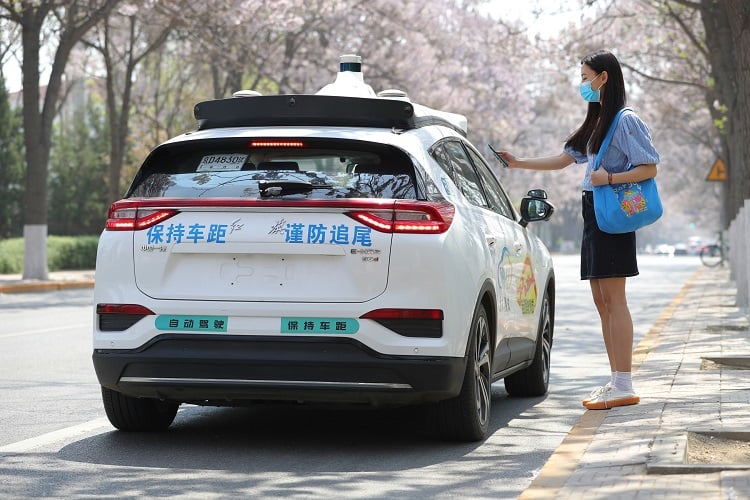 Baidu has been testing ride-hailing through autonomous vehicles in nine cities since 2020 but this is the first time it will operate without a safety driver in any city. Source: Baidu
"Pony.ai's approval to operate driverless robotaxis in Beijing is a critical milestone in the transition from testing driverless autonomous vehicles within Pony.ai to offering driverless robotaxi rides to public passengers," said James Peng, co-founder and CEO of Pony.ai.
To achieve the permit, Pony.ai said it had to pass safety test qualifications including:
Driverless navigation of unprotected left turns.
Temporary construction zones.
Smog, heavy rain and snow conditions.
Driven a substantial amount of mileage.
Number of orders received.
Closer to commercialization
Baidu said that the move to offer driverless ride hailing is a step closer to enabling a scalable operation. Baidu has been operating autonomous ride-hailing services in Beijing since September of 2020 and been charging fees for these services since last year.
The company has expanded to nine cities in China since 2020 including Beijing, Shanghai, Shenzhen, Guangzhou, Chongqing, Changsha, Cangzhou, Yangquan and Wuzhen.
There have been 213,000 orders for ride-hailing through Baidu's Apollo Go app. Additionally, the company has recorded more than 16 million miles of autonomous road testing with zero traffic accidents in the past nine years.