China's stranglehold on the rare earth minerals (REM) market has makers of IE4 Super Premium Efficiency motors worried.
Although business conditions have eased over the last year, China still currently controls approximately 95 percent of the REM sector. And despite efforts by other countries, including U.S.-based Molycorp Inc. to boost REM production, analysts said China will continue to dominate the market until at least the end of the decade, maybe longer. To cope with export quotas imposed by China and elevated pricing, manufacturers of IE4 low-voltage motors are being forced to look at alternative technologies that reduce or eliminate two key REMs, neodymium and dysprosium.
This trend is generating new growth in the motors market, according to Mark Meza, senior analyst, Motors and Mechanical Power Transmission, at IHS. The global market for industrial IE4 Super Premium Efficiency low-voltage motors will reach nearly $418.2 million by the end of 2015, a 153 percent increase from $165.4 million in 2012, according to "The World Market for Low Voltage Motors—2013 Edition," an HIS report.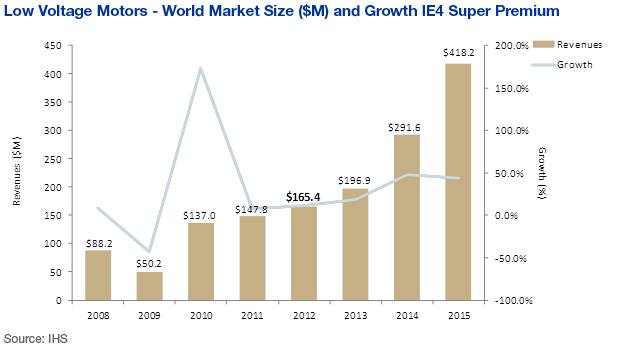 Neodymium and dysprosium are the two main REMs that are needed to produce high-power magnets to generate motor efficiencies above IE3 and NEMA Premium or IE4. Emerging lower-cost alternatives to traditional Permanent Magnet Synchronous (PMSM) motors that achieve IE4 levels of efficiency have added momentum to this niche market, Meza said.
Looking elsewhere
"The recent China price strategy is forcing the industry to look to other materials and different technologies to get efficiency at lower cost and with materials that are less price-volatile," said Rich Schaefer, senior product manager at Baldor Electric, a member of the ABB Group, the largest producer of PMSM motors.
With possible substitutes, PMSM motor manufacturers, like ABB/Baldor, would not have to deal with the similar setbacks they dealt with in prior years when China imposed REM export caps, which caused neo-magnet prices to rise nearly 700 percent in 2011. Some degree of stabilization has occurred as of mid-2012, but prices still remain high and represent a cost concern that motor manufacturers must pass on to their customers, analysts said.
Indeed, Baldor/ABB is using a surcharge to help offset the high magnet cost. It was 25 percent and is now 15 percent. "Current rare earth NdFeB magnet prices make price justification very difficult for IE4 product," Schaefer said.
The company is looking at all technology options and has not made any final decisions, according to Schaefer. However, it is looking at a couple of lower-grade neodymium iron boron (NdFeB ) and SmCo (samarium cobalt) magnet alternatives, as well as Cu (copper) rotor technology, he said.
"SmCo magnets [costs] are about 20 to 25 percent less than those of NdFeB," said Schaefer. Compared with permanent magnets, synchronous reluctance is a very cost-effective technology, offering almost the same efficiency without the high cost of rare earth magnets, he added.
According to the U.S. Geological Survey in its "Mineral Commodity Summaries," an annual report published in January 2013, prices for most rare earth products declined in 2012 compared with 2011. For example, prices for neodymium oxide used to produce magnets began the year at $195 per kilogram but fell to $80 per kilogram by year's end. Still, costs are high.
"Prices are still two-and-a-half to three times above the historical averages, which indicate that there is downside risk in the near term. Part of this is because some of the suppliers have worked to shore up their supply chains in light of the price bubble," according to IHS economist Kris Rawls, who cited hybrid automobile makers as a prime example.
Recycling the only option
Hybrid automobile manufacturers don't have the same flexibility as motor makers to eliminate or reduce REMs from their designs, Rawls added.
In addition to motors, REMs are present in all kinds of applications, including cellphones and electronics, hybrid automobiles, defense systems, lighting and alternative energy systems. Hybrid automobile manufacturers, including Toyota and Honda, have implemented a recycling program that extracts REMs, which comprise approximately 20 to 30 pounds of a hybrid vehicle. For instance, the headlight glass has traces of neodymium, while a hybrid NIMH battery contains lanthanum and cerium—two other REMs that are in large demand and make up 33 percent and 30 percent of the REM market, respectively, according to Rawls. Neodymium accounts for 18 percent, and dysprosium, just 1 percent, he said.
ABB's Baldor and other manufacturers are finding ways to circumvent the problem and develop motors with unique designs that achieve IE4-efficiency levels without neodymium. ABB and Japan's Nidec Corp. separately released synchronous reluctance motors without magnets. Meanwhile, Hitachi Metals Ltd. has developed an IE4 machine that uses traditional ferrite and amorphous metal technology; it includes a silicon ribbon that is it highly conducive and is paired with a ferrite motor to achieve IE4 standards, according to Meza. NovaTorque Inc. also has a proprietary design that includes standard, off-the-shelf ferrite magnets, by which IE4-efficiency levels can be achieved as well, he added.
"China has doubled its export quota, prices have been reduced. It would seem likely that the Chinese would continue to respond to the market and maintain their share. Yes, there are some looking at other materials other than neo but with that, there are compromises," said John Malinowski of Baldor/ABB.
Even though PMSM motor manufacturers are working toward other solutions, they are still coping with an unstable magnet supply chain. To make matters worse, China will continue to remain the leading producer for these magnets, and has offered local companies incentives to use neodymium-based PMSM motors for industrial purposes since they reach IE4-class efficiency. "They have a lot of it. It's an indigenous source — they are keeping it, and the government is providing incentives for end users and the machine builders to use what is already plentiful in their country. They are keeping a tight grip on it," Meza said.
China produces approximately 80,000 metric tons of rare earth annually. Over the last 10 years, it has produced and processed between 95 and 100 percent of the world's rare earth elements, of which at least 60 to 70 percent is currently consumed within the country's borders. In mid-2009, it capped exports of neodymium magnets to 21,500 metric tons; today that number stands at approximately 16,000 metric tons. While there are other locations with neodymium deposits in the world, there is no active mining to produce it, analysts said.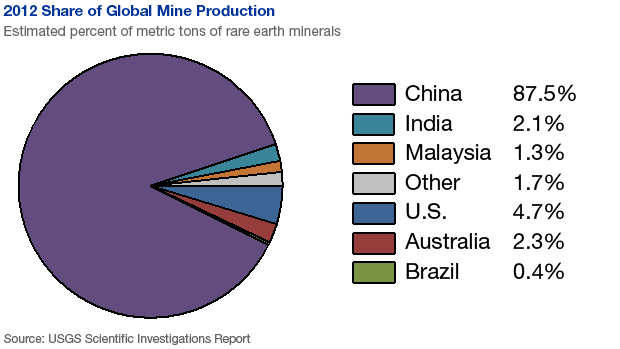 "China has the process to pull it out of the ground and process it in the country, which gives them a huge advantage," Meza said, adding that by 2015, there will be around 400 companies in China alone that will produce neodymium magnets.
Located in Sichuan province, the Chinese government's Bayan Obo has been the world's biggest rare earth mine since 1990. China also controls mining operations in Jiangxi province. Additional sourcing locations in the Far East include Malaysia's Kinta Valley (Lahat), which is home to Australia's Lynas Advanced Materials Plant (LAMP), a state-of-the-art chemical facility. Lynas mines rare earth at Mount Weld in Western Australia, and began producing rare earth products from its Malaysian plant in February. There are other sourcing locations around the world, including Russia and North America's MolyCorp, Avalon Rare Metals and Great Western Minerals Group.
A US rare earth alternative
PMSM motor makers outside of China won't know the real effect until Molycorp and its counterparts get REM product released. For the last four years, Molycorp has been working diligently to increase production of rare earth, according to Jim Sims, a spokesperson for the company.
"The biggest thing that we've been doing for the last four years now is to significantly increase the production of rare earth from our company," Sims said. Molycorp is in the process now of ramping production of rare earth from its Mountain Pass, Calif., facility, where it invested $1.5 billion to become a major worldwide rare earth provider. It is still in the process of completing construction of two other main parts of the processing plant, but Sims said that those facilities aren't essential to rare earth production.
Mountain Pass is on track to achieve an annual production run rate of 20,000 metric tons; it is currently at the 6,000 metric-ton level. "We have built the facility to go from 20,000 metric tons per year to 40,000 per year, and the ramp-up beyond 20,000 can be done quickly. We have spent all of the capital to quickly turn the dial. It has the ability to increase production but we don't intend to do that unless the market signals it needs that product," Sims said.
Indeed, it appears as though rare earth demand has waned a bit. According to the latest U.S. Geological Survey based on eight months of trade data, domestic consumption of rare earth imports in 2012 declined to 5,700 tons, down from 7,790 tons in 2011. The report attributed the decline in REM consumption to weak economic conditions and improved material efficiencies.
Over the long term, however, it is important for PMSM manufacturers — as well as all consumers of neodymium, dysprosium and other REMs — to have strategies in place to deal with potential shortages and China's business practices in this sector.
"It is going to be years and years before anyone can compete with China on production capacity and costs," Meza said.