Global semiconductor manufacturing equipment spending is forecast to surpass $100 billion this year, the first time it has eclipsed this milestone, according to new data from SEMI, a trade organization tracking equipment.
The new high, $103 billion, represents a 44.7% growth from the previous industry record of $71 billion that was set in 2020. The spending growth is expected to continue next year with global chip equipment spending expanding to $114 billion.
"Crossing the $100 billon mark in total semiconductor manufacturing equipment sales reflects the global semiconductor industry's concerted and exceptional drive to expand capacity to meet strong demand," said Ajit Manocha, SEMI president and CEO. "We expect continuing investments in the digital infrastructure buildout and secular trends across multiple end markets to fuel healthy growth in 2022."
Reasons for growth
Both the front-end and back-end semiconductor equipment segments were contributing to the global expansion. Wafer fab equipment — that includes wafer processing, fab facilities and mask/reticle equipment — is projected to expand 43.8% to a new industry record of $88 billion in 2021, followed by an increase of 12.4% in 2022 to about $99 billion.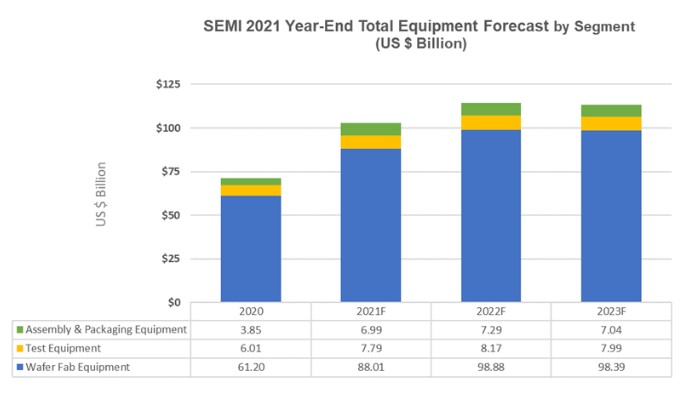 2021 was a banner year for semiconductor equipment spending and 2022 will be even better before slightly falling in 2023. Source: SEMI The spending of equipment comes in the face of an ongoing chip shortage due to the COVID-19 pandemic with stay-at-home orders and lockdowns. Because the consumer electronics and computer segments increased in demand due to people working from home and students having school at home, other segments were left without enough capacity.
As a result, other segments that temporarily put capacity on hold had no supply when demand returned, including the automotive chip segment that has been hit especially hard. TSMC and Intel have both pledged to increase fab builds globally to help with current issues as well as the fact that semiconductor demand is forecasted to grow 5% over the next decade.
With new fabs and more capacity being added, more equipment is needed and thus equipment spending has reached a new high.
By segment
Foundry and logic segments will account for more than half of total wafer fab equipment sales, SEMI said. This is being driven by demand for both leading-edge and mature nodes. Foundry and logic equipment spending will continue into 2022 rising 17%.
Enterprise and consumer demand for memory and storage expanded in 2021, growing 52% to $15.1 billion and growing 1% in 2022 to $15.3 billion. NAND equipment market is projected to jump 24% in 2021 to $19.2 billion and 8% in 2022 to $20.6 billion.
Assembly and packaging equipment is expected to grow by 81.7% to $7 billion this year, followed by another increase of 4.4% in 2022. The semiconductor test equipment market will grow 29.6% in 2021 to $7.8 billion and expand another 4.9% in 2022 on demand for 5G and high-performance computing applications.
Regional growth
Despite the U.S. inroads on building more domestic semiconductor manufacturing — with a new TSMC fab that recently broke ground in Arizona, two new fabs in Arizona from Intel and a new fab in New York from Globalfoundries, and Samsung building a plant in Texas — China, Korea and Taiwan still led in equipment spending in 2021.
China is forecasted to maintain the top equipment spending position, but Taiwan is forecast to regain the top spot in 2022 and 2023 as new fabs come online, SEMI said.
The full research can be found in SEMI's Equipment Market Data report.