Halloween is only a few days away and time is running out to come up with a cool costume or to get the house ready for the holiday.
Luckily, technology has been developed to help survive the night.
Pumpkin-pi
Some of the best Halloween tech projects come from the single board computer community where a cheap Raspberry Pi or Arduino can be used to create cool and scary items.
Maker Caleb Lemoine has created such a project using a Raspberry Pi to construct a jack-o-lantern that detects people and turns around to watch them as they pass. The project was based on Halloween decorations that are typically found in Halloween specialty shops.
The jack-o-lantern was built on top of a Raspberry Pi 3 B and uses a Pimoroni pan-and-tilt hat. Two motion sensors are fitted inside a 3D-printed enclosure and are used to track people close to the pumpkin. An MG90s servo then pivots the pumpkin around to face a dedicated person and is housed in an acrylic display case with 5V fans for cooling. The video at the top of the page shows the Pumpkin-pi in action.
Costume Wizard
Have trouble finding a good costume to wear or want to find something that is not popular this year? Google has you covered with its Costume Wizard. The tool not only helps you pick the right costume based on popularity and scary appeal, but also details what costumes are popular in different parts of the U.S.
The tool has four different options that can fine-tune what type of costume you are looking for, ranging from classic to modern.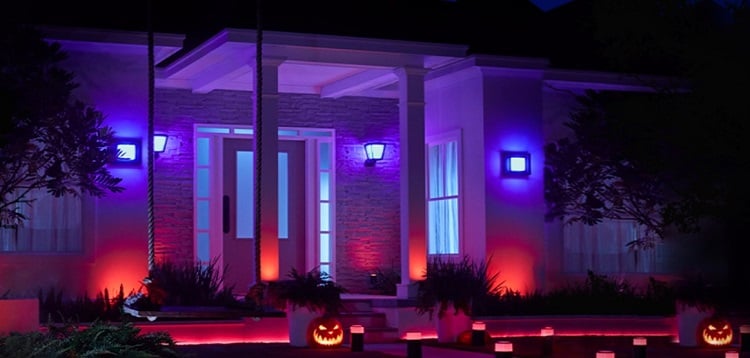 Philips Hue lighting has dedicated scenes for Halloween that can be fine tuned in the app to make outdoor lighting match the scary time of year. Source: Signify
Spooky lights
Light emitting diode (LED) lighting has come a long way in a short time for the smart home. Lighting can change an entire house to look bright or colorful, depending on the circumstance or holiday.
In the case of Halloween, it can turn a house into a spooky location. Philips Hue lights by Signify features a Halloween scene in its Hue Labs that allows outdoor lighting to be turned purple, green and orange. There is also a preset inside the Philips Hue app called Blood Moon that works well for spooky lights.
Additionally, HueDynamic is an app that simulates effects such as lightning or candlelight as well as spooky atmospheres and even a passing ghost effect.

Snapchat offers not just filters for Halloween but a platform to view other creators worldwide and a way to try Halloween-related makeup before you buy. Source: Snapchat
Scary filters
Everything is available on mobile these days, even the best costume. Snapchat has unveiled a new line of filters and augmented reality (AR) specifically for the Halloween season.
The social media app features new scary lenses, six new Bitmoji Halloween costumes, a haunted Snap Map design and a new feature that allows users to try Halloween makeup products. Additionally, it also contains new features for spotlighting creators and to view perspectives of the popular holiday from around the world.
Snapchat said that last year during Halloween more than 240 million customers used AR on its platform during Halloween to give outfits an additional look or to create spooky selfies.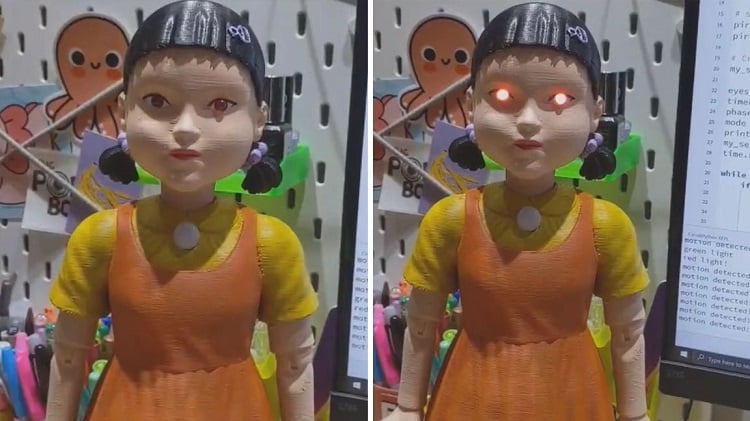 The Red Light, Green Light Robot can be created using a Raspberry Pi and Pimoroni Pic LiPo module for a cool Halloween prop. Source: Hel Gibbons
Red Light, Green Light Robot
Netflix's cult series "Squid Games" has become one of the most popular shows on the streaming service due to its quirky characters, interesting storyline and frightening games. In the first episode of the show, the Red Light, Green Light Robot was introduced kicking off a brutal series of deaths among unsuspecting players.
Now, you can create the interactive robot from the series using Raspberry Pi. Maker Hel Gibbons created the interactive doll using 3D-printed materials, and it is controlled by the RP2040, Raspberry Pi's first microcontroller.
Internally, the 3D-printed body contains a Pimoroni Pic LiPo module that is used to illuminate the eyes with red LEDs when motion is detected using a PIR motion sensor.
The doll is portable and can be placed anywhere in a house to surprise guests. Gibbons showed how it works on Twitter.