While Halloween is a festive time for many families that participate in the annual "trick-or-treat" event, many unwanted ghouls and goblins also come out in order to take advantage of unsuspecting homeowners and empty homes.
With the advent of the smart home, leaving your house for an extended time period may allow you to feel more secure in fending off an attack from unwelcome spirits. Using new technologies in the realm of home security, lighting and electronics devices controlled through a smartphone or other mobile device can be an easy way to determine if a ghoul is at the door or simply an innocent child hoping for a sweet treat.
While smart home devices have been used recently as a tool for hackers to take down the internet (Read: U.S. Government Seeks to Protect IoT from Future Cyber Attacks), this Halloween they can be used as tools of deterrence.
1. Security cameras
A smart camera placed near the front door or near the front of an entrance to a home can be used to not just see the kids coming before you open the door, but can identify tricksters looking to play pranks or cause damage. Most smart security cameras, such as the Nest indoor and outdoor cams, can be monitored through a smartphone or tablet, so even if you are out and about in the neighborhood, you can see what is happening at your house.
Security cameras can also be adjusted or positioned so that if a family member hands out candy on the sidewalk, the cameras will record and monitor him or her during the night for safety.
2. Smart lights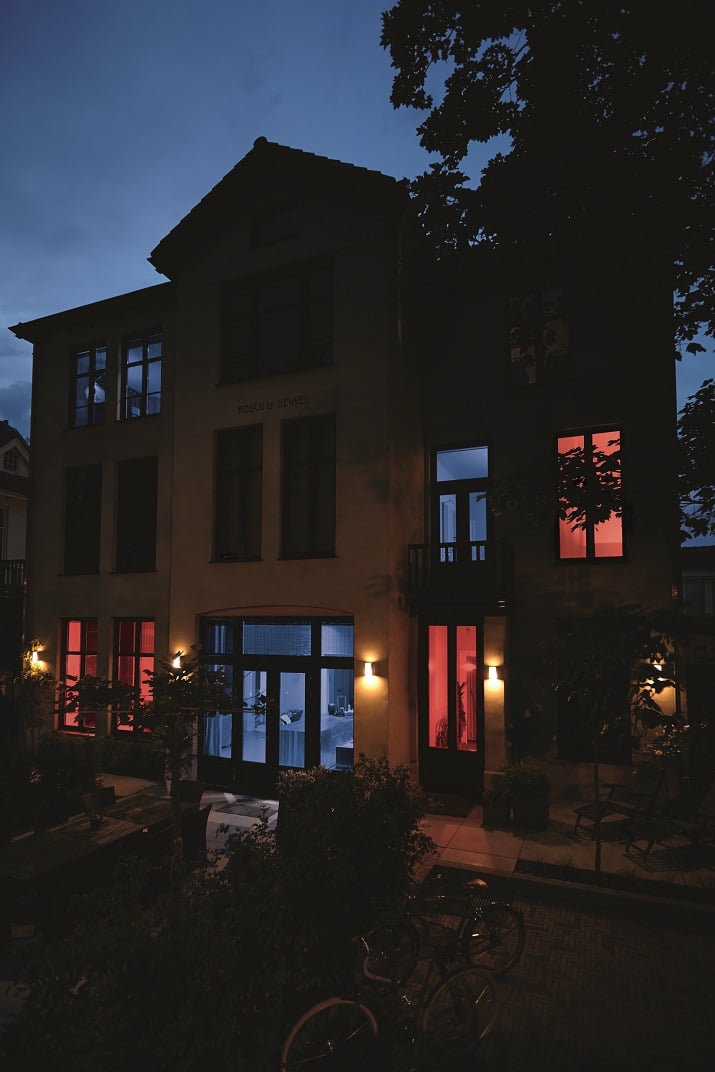 Philips Hue LED lighting works with smart security cameras to detect movement in the house and then changes colors to flash blue and red throughout the house. Source: Philips Innovations in light-emitting diode (LED) lighting has led to the ability to control lighting to set a mood, auto dim and turn lights on in the home whether someone is in the house or not. Smart home hubs can be set up to establish lighting to turn on at certain periods during the night in order to mimic behavior of someone being in the home, by using Philips Hue lighting and other smart LED bulbs. Some LED lights can also be controlled through a smartphone to enable this function without the use of a hub or communications center. This is seen as a deterrent for goblins taking advantage of people leaving to go out on Halloween.
3. Smart locks and smart doorbells
Not only do smart locks help in securing who comes in and out of the house, but also they allow homeowners to go outside without a key, lessening what has to be carried while trick-or-treating. Some smart locks even come equipped with cameras, allowing you to see who comes to the door before he or she rings the bell.
Smart doorbells also generally come equipped with an HD camera, such as the Skybell Wi-Fi Video Doorbell, which can be programmed, controlled and monitored using Amazon Alexa devices, IFTTT (If This Then That) and other smart home hubs.
4. Automated blinds
Criminals use open windows in homes to have a peek at what's inside in order to see if the home is easily available for theft. If you happen to leave the house without closing the blinds, nearly all smart automated blinds, such as Lutron's Serena Shades, are controlled via an application on a smartphone that can inform users whether the blinds are open or closed. Simply use the application to adjust the blinds to prevent ghouls from peeking at your pricey wares.