Consumer Electronics
Customized Games and Recreational Activities Using A Laser Engraver
28 July 2017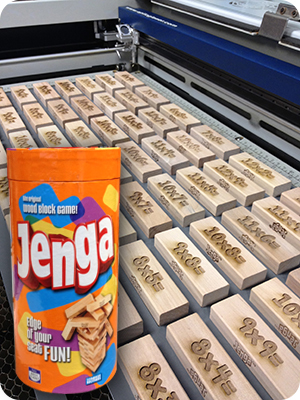 Customized Jenga blocks. Source: Epilog LaserSponsored content
There are few people in this world who don't enjoy a good game of some sort – from board games to card games, from popular party games to tailgate games. To capitalize on the popularity of some of our best-loved pastimes, some DIY makers and even enterprising business owners have started customizing games to make them even more special. Through the use of laser-engraving technology, you can engrave almost anything, from Jenga™ blocks to cornhole games. Laser engraving is a great way to personalize your favorite games, with team logos, names and statements. You can even laser-cut items for a Halloween costume! Watch an Epilog laser cut and engrave costume glasses out of wood here.
In order to laser engrave game pieces, like the rectangular wood blocks of Jenga, you must make a jig. A jig is a tool that is used to control the location and motion of another tool. The jig serves to ensure the laser is level and secure in order that a repeated design is accurate. The jig is a great approach to engraving the same item multiple times. It is also good for large engraving jobs with multiple pieces of the same type, but with different engravings on each item. Jigs are a time-saving solution if you are planning to repeat a job multiple times.
Customized games can be great as a conversation starter at a party or can even be given as a personalized gift. You can add someone's name, different phrases or designs to each game piece. Using the Jenga example, one current trend is writing truth or dare statements on each Jenga block. The blocks either have a short question or dare, and when someone pulls the block, the person has to answer the question or do the dare. Alternatively, people have been writing questions or dares with a pen but that is messy and doesn't always last. Taking it a step further, lasers can actually engrave the questions and dares!
Not only can you laser engrave games that are already in your closet, you can also create your own game board with laser cutting. Ever wish you could customize your own chessboard? Well with your at-home laser you can create the chessboard of your dreams! Epilog has step-by-step instructions for how to laser-cut a customized chessboard. The board can be any color you want, with any kinds of chess pieces your game-loving heart desires.
And with the start of football season mere weeks away, who can overlook the pure awesome factor of a customized cornhole set? This Epilog tutorial offers step-by-step guidance for creating your own, and also links to a supplier who is happy to customize your very own mini cornhole set for you!
The possibilities are endless when it comes to customizing games and recreational activities with a laser engraver. Epilog has many resources at your disposal to answer any laser engraving and cutting questions you may have. What's stopping you from being the hit of your next party or tailgate?
Find Free Electronics Datasheets