The following is an overview of a teardown analysis conducted by TechInsights.
Automotive infotainment has come a long way from analog controls — buttons and dials for commanding systems such as radio, climate and car controls.
Today, many cars feature touchscreen displays for radio and climate controls and digital control over car functions via touchscreen or heads-up displays. There are more innovations coming as well including the introduction of augmented reality into vehicles and the ability to control infotainment for passengers.
These infotainment options are designed to improve the experience for passengers by providing movies, custom music options and even video games. While many of these functions are not there yet, they are coming soon and automotive OEMs are already developing the touchscreen displays and infotainment systems to support these future innovations.
Mercedes-Benz A Class center stack for infotainment systems is a dual touchscreen display for vehicles that includes a variety of electronic components including field programmable gate array (FPGA) from Xilinx, 32 bit MCUs from NXP Semiconductors, memory, LED drivers and more.
The following is a partial deep dive into a Mercedes A Class center stack display for infotainment systems inside vehicles conducted by TechInsights.
Summary points
Dual 10.24 inch TFT, 720/1920 pixels with 1,677,216 colors
Xilinx FPGA
Automotive 32 bit MCU
Target market: Everywhere
Released: February, 2018
Pricing: $909
Availability: Worldwide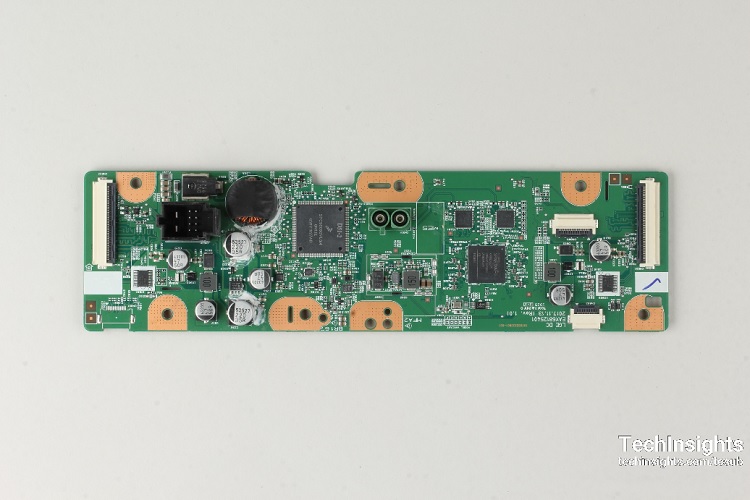 The main board of the Mercedes Display includes a 32 bit MCU, Xilinx FPGA, power components and more. Source: TechInsights
Main board
The main board of the Mercedes A class center stack display includes a variety of automotive electronics including the NXP Semiconductor automotive 32 bit microcontroller, Xilinx XA6SLX25 FPGA, Maxim four-channel LED driver and monolithic power systems step-down DC-DC converter.
(Learn more about microcontrollers on GlobalSpec.)
Additionally, the main board includes electronic components such as Vishay Siliconix's power MOSFET, ST Microelectronics' watchdog timer, Texas Instruments' clock buffer/clock multiplier, Diodes Inc.'s power MOSFET and TI's 2 bit bidirectional voltage-level translator.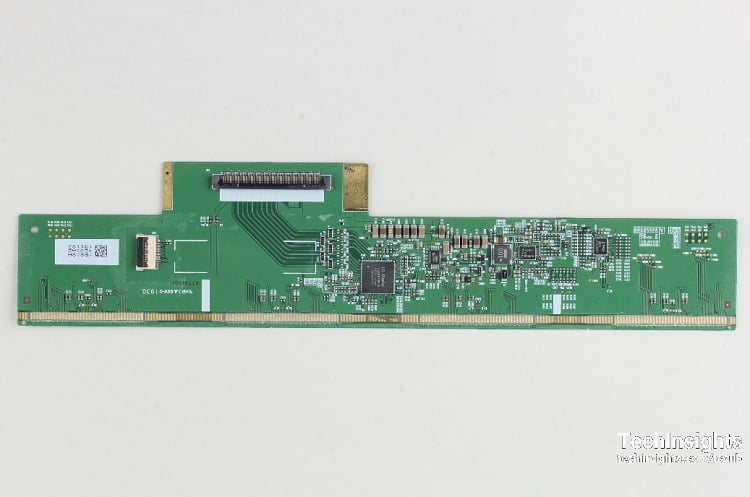 The touchscreen controller includes display drivers from Silicon Works, TVS diode array from Semtech and more. Source: TechInsights
Touchscreen controller
The Mercedes A class center stack display includes dual display boards for both touchscreens inside the vehicle. The main components of the display board include the TFT-LCD display driver from Silicon Works, the TVS diode array from Semtech, the LCD timing controller from LG Display, the TFT-LCD power supply from Renesas and the serial EEPROM memory from ST Microelectronics.
(Learn more about display drivers on GlobalSpec.)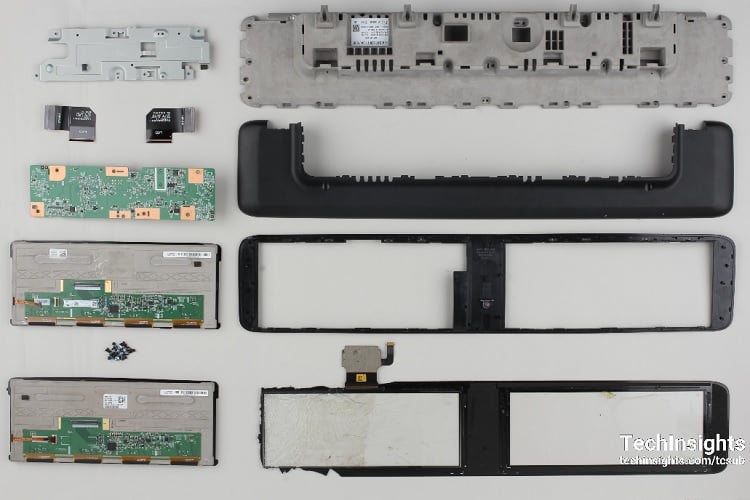 The entire teardown components of the Mercedes A Class center stack display. Source: TechInsights
Main components
$182.22 – Dual display/touchscreen subsystem (Qty: 1)
$20.53 – Main support (Qty: 1)
$8.55 – Xilinx FPGA XA6SLX25 (Qty: 1)
$3.86 – Cable flex for dual display/touchscreen subsystem (Qty: 2)
$3.60 – Maxim MAX9282G GMSL deserializer (Qty: 2)
$3.29 – NXP SPC5605BVLQ4 automotive 32 bit MCU (Qty: 2)
$3.14 – Back cover (Qty: 1)
$2.47 – Ornamental frame (Qty: 1)
$1.94 – Bracket holder PCB (Qty: 1)