Electronics and Semiconductors
TechInsights Teardown: Ouster OS1-64 lidar sensor
25 February 2022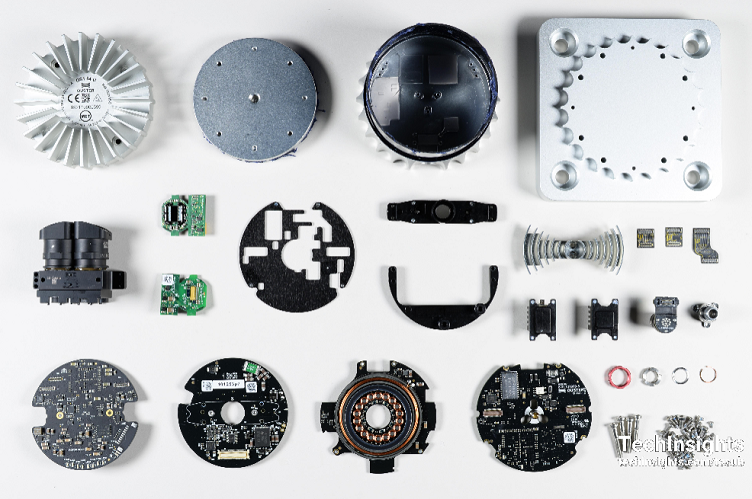 Lidar is one of the important devices that is quickly becoming standard in vehicles. Not only do the devices give vehicles perception of their environments, but they also help in mapping the road ahead to steer clear of obstacles that may be a danger to the occupants.
Most lidar devices are used today for advanced driver assistance systems (ADAS) for safety purposes such as lane navigation, automatic braking, self-parking and more. However, in the future, lidar will be critical for more advanced autonomous driving functions including driverless cars.
Some lidar devices are used for specific functions such as ADAS while others run the gamut of being able to sense the environment and relay the information back to the automotive control computer, so it adjusts in real-time on the road. Nearly all autonomous vehicles that have started testing globally contain at least one lidar sensor on board (along with numerous other sensors and cameras) for mapping and perception detection.
As vehicles become more advanced and self-driving functions further become a reality, lidar will be critically important for these vehicles to function safely on the road.
The following is a partial deep dive into the Ouster OS1-64 lidar sensor used in the automotive sector performed by TechInsights.
Summary points
1 GB DDR3L SDRAM
No camera
No display
Xilinx Artiz-7 FPGA
Target market: Automotive
Released: January 2020
Pricing: $3,000
Availability: Worldwide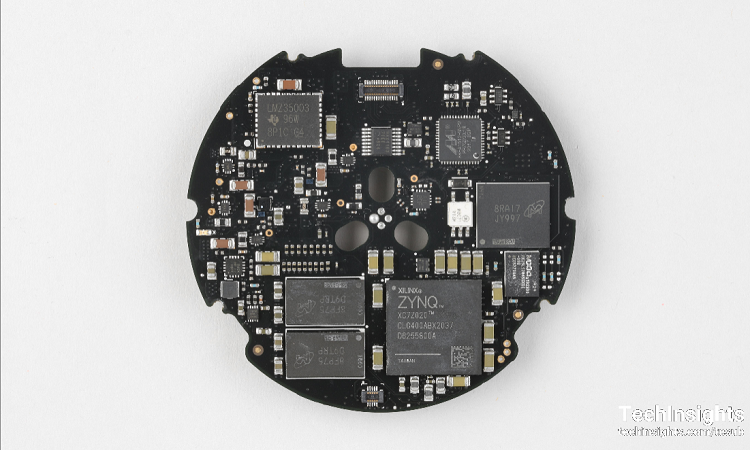 The main board of the Ouster OS1 lidar sensor that includes a system-on-chip from Xilinx and components from Maxim, Marvel and Micron. Source: TechInsights
Main board
The main board of the Ouster OS1 lidar sensor contains the brains of the lidar including the Xilinx dual-core ARM Cortex-A9 and programmable logic system on chip. Other components on the main board include:
Maxim 12 bit analog to digital converter and limiting amplifier
Marvell Semiconductor's gigabit Ethernet transceiver
Micron's multichip memory 8 GB MLC NAND flash, memory controller and the DDR3L SDRAM Memory
Texas Instruments' DDR Termination regulator and adjustable slap-down converter
Analog Devices' RF power detector
Macronix's serial NOR flash memory — 16 MB
(Learn more about memory chips on Globalspec.com)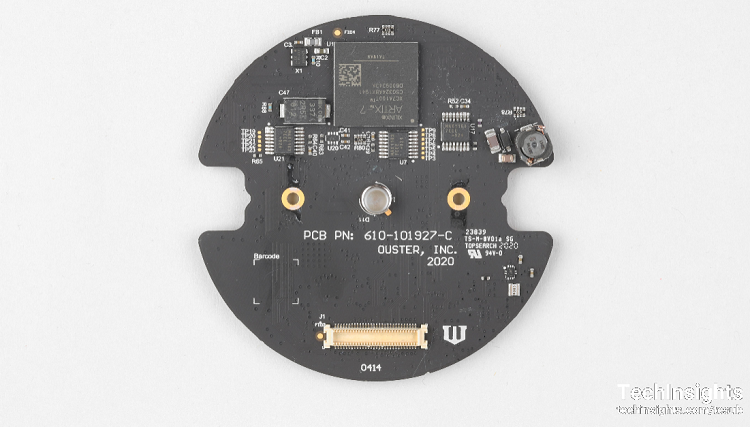 The rotor board inside the lidar sensor from Ouster includes the Artiz-7 FPGA from Xilinx. Source: TechInsights
Rotor Board
The rotor board also functions as a control unit inside the Ouster OS1 lidar sensor containing the Xilinx Artiz-7 field programmable gate array (FPGA), Microchip's 125 MHz CMOS microelectromechanical systems (MEMS) oscillator, Nexperia's dual supply translating transceiver, Maxim's 12 bit ADC and TI's current shunt monitor.
(Learn more about FPGAs on Globalspec.com)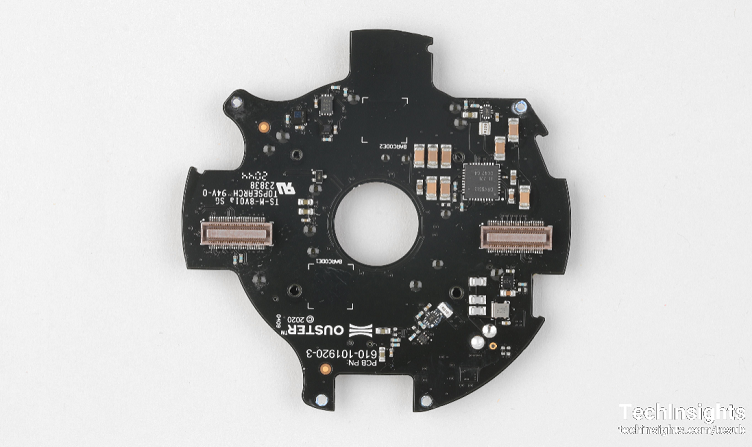 The motor board of the lidar sensor from Ouster includes further components for communication with vehicles. Source: TechInsights
Motor board
The motor board of the lidar sensor contains memory and other components used for communication and operations of the lidar inside vehicles. The list of components includes:
TI's compensator, current shunt monitors and power MOSFETs
ON Semiconductor's MOSFET driver
Microchip's serial EEPROM memory — 2 KB
(Learn more about discrete components on Globalspec.com)
Major components by cost:
$13.43 — Artiz-7 FPGA — Xilinx (Qty: 1)
$10.93 — Mounting base (Qty: 1)
$10.46 — Small active VCSEL array (Qty: 1)
$10.13 — Dual-core ARM Cortex-A0 and programmable logic SoC — Xilinx (Qty: 1)
$7.53 — Pettier module (Qty: 1)
$7.23 — SPAD array (Qty: 1)
$6.51 — Lens #3 (Qty: 2)
$6.47 — Lens #2 (Qty: 2)
$6.43 — DDR3L SDRAM memory — 512MB — Micron (Qty: 2)
$6.29 — Bottom enclosure (Qty: 1)

Find Free Electronics Datasheets