Radio frequency (RF) and microwave amplifier design relies upon evaluation of energy output. Key to this task are RF power meters which, like other sensitive electronics, require testing for accuracy.
[Discover RF power meters on Engineering360.]
Among the newest product releases from Bird, a provider of RF products and services based outside of Cleveland, is a power meter display that, according to the company, will transform RF power meter testing. The device, which Bird calls "a giant leap forward," is a handheld portable meter that captures, collects and displays RF power measurements on a high-resolution, sunlight-readable, rugged touch screen display that allows rapid review of data in both field and lab environments.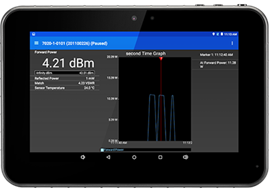 The 5000-NG offers a next-generation display and automatic sensor detection. Source: BirdThe 5000-NG, a replacement for Bird's previous iteration, the 5000-XT, operates over a broad frequency range using a USB power sensor. Fully digital, it automatically detects the sensor in use and saves session information. In addition to taking RF power measurements, the device offers a "max hold" setting for detecting maximum power and a smoothing level feature for increased reading stability. Bird adds that the intuitive interface of the 5000-NG will ensure rapid learning curve progress for technicians.
Specifications include:
Frequency range
2 MHz to 6 GHz with external power sensors (not included with device; see Bird's datasheet for compatible sensor information)
Key measurements
True average power (forward and reflected)
VSWR, return loss, rho, match efficiency
Peak power, peak to average ratio, crest factor, PEP
Burst and burst average power
CDF, CCDF, confidence percentage
IEEE 194 pulse parameters
Sensor temperature
System
Display: Full-color 8 in 1280 x 800-pixel display w/backlight
Data transfer: USB drive, PC, Wi-Fi or Bluetooth
Battery Type: Rechargeable, 3.7 V/6200 mAh lithium battery
Recommended calibration interval: No calibration required (sensor calibration recommended)
Power supply: AC: 100 to 240 V/50-60 Hz; DC: 5 V/2.5 A
Upgradeability: Firmware field-upgradable via USB port
Environmental
Temperature:
Operating: -20° C to 60° C (-4° F to 140° F)
Storage: -20° C to 80° C (-4° F to 176° F)
Altitude: Up to 15,000 ft (4,572 m)
Dimensions
Size: 9.2 x 6.3 x 1.1 in (233 x 160 x 28 mm)
Weight: 1.3 lb (0.59 kg)
For more information on the 5000-NG, visit Bird's product page.