American radio frequency (RF) solutions provider Bird, based outside of Cleveland, Ohio, has recently released an RF analyzer kit that the company refers to as the "best of both worlds," a reference to its capacity both for performing RF testing and maintaining RF integrity.
According to Bird, the Master RF Analyzer Kit provides all of the equipment needed for field technicians and engineers performing coaxial cable and antenna systems installation, troubleshooting and maintenance, as well as analysis of system performance.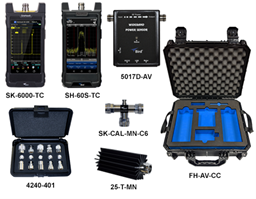 The Master RF Analyzer Kit is designed both for performing RF testing and maintaining RF integrity. Source: BirdThe kit's equipment includes Bird's SiteHawk cable and antenna analyzer and SignalHawk hand-held spectrum analyzer, as well as a wideband power sensor, a calibration combo and an assortment of adapters and cables housed in an organized case.
Highlights of the included equipment include:
Cable and antenna analyzer: SK-6000-TC
Wide frequency range (1 MHz to 6 GHz)
Features including return loss, cable loss and distance-to-fault (DTF)
On-the-go USB communication port for connection to Bird power sensors, storage devices and battery charging
Utilizes frequency domain reflectometry (FDR) measurement method to provide reliable health assessment of critical system components and a "heads-up" prior to failure
Spectrum analyzer: SH-60S-TC
Wide frequency range (9 kHz to 6 GHz) for real-time spectrum monitoring and analysis of RF circuits
Predefined measurements including channel power, adjacent channel power ratio (ACPR), occupied bandwidth (OBW), phase noise, n dB down bandwidth, field strength and FM demodulation
Spectrum viewable with trace display, spectrogram display or both
High-resolution touch screen
Power sensor: 5017D-AV
Frequency range: 100 MHz to 1.3 GHz
Power measurement range: average, 500 mW to 500 W; peak 1300 W
Impedance: 50 Ohms, nominal
Direct measurements of true average power, peak power and duty cycle can be used to calculate other important factors such as voltage standing wave ratio (VSWR), return loss, reflection coefficient, crest factor, average burst power and complementary cumulative distribution function (CCDF)
Annual calibration, with no required field calibration
Calibration combo: SK-CAL-MN-C6
Frequency: DC to 6 GHz
Resistance: 50 Ohms
Termination/load resistor 25-T-MN
Power rating: 25 W
Frequency: DC to 4 GHz
Impedance: 50 Ohms, nominal
Adapter kit: 4240-401
Enables assembly of compact 50 Ohm adapters to meet up to 45 different matching requirements.
Precision matching and tight mating tolerances for low VSWR.
Includes enough couplers to assemble five complete adapters.