The push to replace venerable electromechanical electricity meters with more advanced smart meters continues worldwide as energy conservation, user accountability and infrastructure upgrade projects increase the attractiveness of these units. For vendors, it's an opportunity to lock in long-term business, but it is also a complex, very-long sales cycle with many non-technical bumps.
The outlook is uneven, according to Jacob Pereira, analyst for smart utilities infrastructure, in an IHS report entitled "The World Market for Smart Electricity Meters – 2013." Annual shipments of the meters will pass the hundred-million-unit mark next year and remain there until at least 2017, up from an estimated 82 million units in 2013.
"While it is true that growth in many of the traditional markets for advanced metering solutions has been disappointing in recent years, there is quite a bit of good news as well," Pereira said.
The North American smart meter market has softened due to reduced government funding, Latin America is seeing softened incentives and there are delays in Europe for multiple reasons, Pereira said. But he added that positive developments are being seen in China.
"China's massive infrastructure- modernization effort includes a continuing countrywide overhaul of old metering systems, and that can make a big difference in a country of well over 400 million metering endpoints," Pereira said.
The term "smart meter" actually encompasses a range of capabilities. The most basic meter has only remote-reading features, implemented via an RF or powerline communication (PLC) link. More advanced meters also allow the utility to provide real-time updates to users on usage and rates; the most advanced designs can provide load management—a feature that makes many end- users uncomfortable.
The units are expected to account for almost $5 billion in revenue for meter manufacturers, says the report, although IC vendors will see only a small portion of that gross amount, as the recent IHS teardown report "Video Teardown: Inside a Smart Electricity Meter" reveals.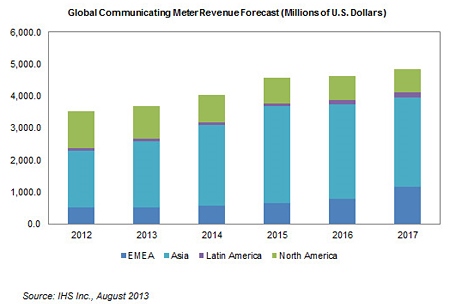 Although there are clear functional differences, the application and market opportunities for Advanced Metering Infrastructure (AMI) and Automatic Meter Reading (AMR) projects have some characteristics that are similar to the ECG market, identified in "Analog Chip Vendors Target Growing Market in Electrocardiograms":
Worldwide opportunity with highly fragmented OEMs and end-users, along with long sales cycles and installation life.
Numerous regulatory and certification standards, such as ANSI C12.20 and IEC 62053 accuracy requirements for Class 0.2 and Class 0.5 meters.
OEMs who prefer to put their financial and personnel resources into user interfaces, product packaging, and dealing with utilities, rather than into the analog interface circuitry itself.
Then there are the additional twists of dealing with utility companies and various political entities.
The IC vendor perspective
For IC vendors, there is opportunity in three primary meter functional blocks: the analog front end, which interfaces with the power-line current/voltage sensors; the processor, which handles the data and provides the readings; and a wired/wireless link for communicating back to the utility directly or to a local node.
Other functions, such as battery backup, display, and the actual power-line sensor, are outside of the IC vendor's domain. Much of the technical expertise and cost in these meters is the overall package itself, which must be rugged, tamper-resistant, and designed for a long installed life of 15 to 20 years without attention.
To support the OEM designs, IC vendors can partition their offerings in various ways. They can provide a bare-bones analog interface supported by a more complex processor, or they can put some of the signal-processing into the front-end analog ICs and thus reduce the requisite processor capability, power dissipation, and cost. The decision is complicated by additional performance demands that the utilities are now making on smart meters, as they want to detect faults, monitor power quality, and identify loads that cause line disturbances. To do this requires measuring peak voltage and current (more difficult than basic RMS readings), zero-crossing detection, and even determining harmonic content.
Both analog vendors and processor-centric vendors are active in this market. The former bring their sensor and signal-conditioning expertise; the latter counter with low-power processors and carefully tailored functional blocks. Both groups have developed their own wired or wireless interface capabilities or licensed what they need. As a result, OEMs have a choice among a diverse range of solution strategies.
Analog Devices offers the ADE7751, a fault-tolerant energy-measurement IC intended for use in two-wire distribution systems. It provides instantaneous and average real power based on line voltage and current, and relies heavily on an associated processor, as the analog circuitry in the ADE7751 provides basic analog-to-digital converters (ADCs), correction, and reference functions. The bulk of the remaining signal processing, such as multiplication and advanced filtering, is carried out in the digital domain. It also incorporates a fault-detection scheme to warn of fault conditions while also allowing the ADE7751 to continue accurate billing during a fault event. It does this by continuously monitoring both the phase and neutral (return) currents: it determines a fault condition exists when these currents differ by more than 12.5 percent, and continues billing using the larger of the two currents.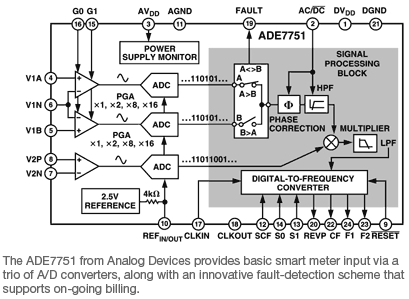 Texas Instruments offers a more integrated approach with their MSP430F673X, an extremely low-power microcontroller with three 24-bit A/D converters, a separate 10-bit A/D converter, timers, and several serial communication interfaces; it also includes an LCD driver with integrated contrast control. The device, part of a larger family, is targeted at 2- and 3-wire single-phase metering, including tamper-resistant designs.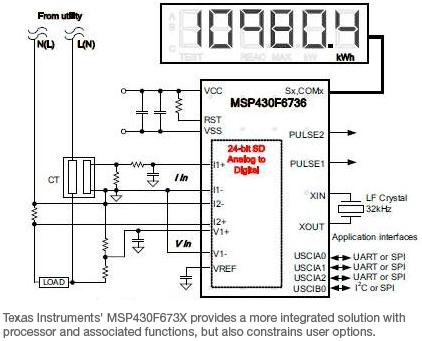 For an isolated two-chip core solution, Maxim provides the MAX78700, an isolated A/D converter that provides current and voltage measurements to the host while the host provides control, command, and power to the meter. It works with their MAX78615+LMU (line measurement unit), an isolated energy measurement host processor for load monitoring and control of any 2-wire single-phase or 3-wire AC circuit. A pulse transformer provides the isolated data and power path between the device and host, eliminating the need for additional isolation components in the measurement subsystem.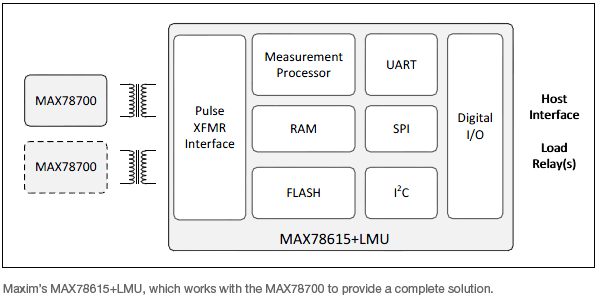 Seeing an opportunity for expansion, Atmel acquired the smart-metering business of Integrated Device Technology' (IDT) in early 2013 (see here). Their 90E22, Figure 5, is a high-performance energy-metering IC for single-phase two-wire active and reactive energy meters. It is fully compliant with IEC standards IEC62052-11, IEC62053-21 and IEC62053-23, with accuracy of 0.1 percent for active energy and 0.2 percent for reactive energy over a dynamic range of 5000:1, a greater range than the basic standard requires.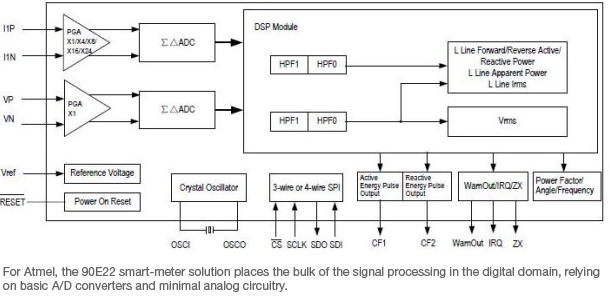 Whether the opportunity grows at the anticipated rate or not, the market demand for more efficient energy use begins with knowing how much is being used, by whom, and when, and then charging accordingly. Smart meters are the critical foundational building blocks for efforts to achieve these goals.
Related stories: