Excelitas Technologies Corp., a provider of customized photonic solutions, has announced the latest addition to the company's hybrid photodiode receiver (HPR) series – the HPR-1100BGH hybrid PIN receiver module.
The new HPR-1100BGH hybrid PIN receiver module integrates Excelitas' high-speed silicon PIN photodiode, a low-noise junction-gate field-effect transistor operational amplifier and an optical aperture to minimize stray light detection and ease development of systems where weak signals with a high gain need to be amplified at low-bandwidth.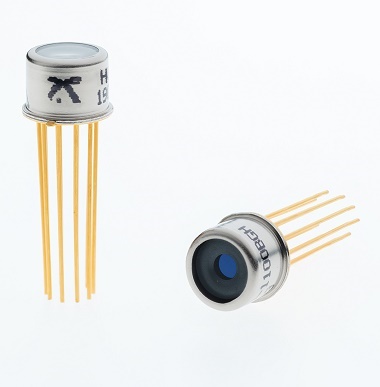 Source: Excelitas Technologies Delivered in a robust small package, the HPR-1100BGH provides high output signals at the highest signal-to-noise-ratio (SNR). It is ideal for conversion of a light signal into an electrical output and low-bandwidth applications such as optical power meters, fast laser triggers, instrumentation and simplified receivers for high-performance, short-range communication links.
"Excelitas' HPR series builds upon the heritage of our HUV series based on our low-noise silicon PIN photodiodes and will soon be expanded towards even longer wavelength design by integrating our indium gallium arsenide PIN devices. Having worked with several customers to integrate the HUV series into several high-reliability end products, we expect the HPR series to be a key component for development of short-range optical communication links, laser optical triggering and instruments such as optical power meters. We look forward to working with customers to enable these novel designs," said Eric Desfonds, senior product line manager, Sensors at Excelitas.
Recognizing that different applications have different performance requirements, Excelitas offers a wide range of customization of these photodiodes to meet design challenges. Responsivity and noise screening, custom device testing, thermoelectric-cooled devices and incorporating band pass filters are among many of the application-specific solutions available.