Photonic solutions developer Excelitas Technologies Corp. has expanded its EXACTD series of laser warning detectors with its new compact EXACTD-332 sensor for airborne and land vehicle laser warning systems.
Featuring a unique combination of photodiodes with a high-precision optical system, EXACTD-332 provides an angle-of-arrival (AoA) resolution of +/- 6° and spectral sensitivity from 500 nm to 1650 nm for the detection of all laser threat applications, including target designation, laser range finding, SAL laser guidance and for any active laser on electro-optics payload.
Designed to detect and provide precise AoA information from direct and indirect scattered light, the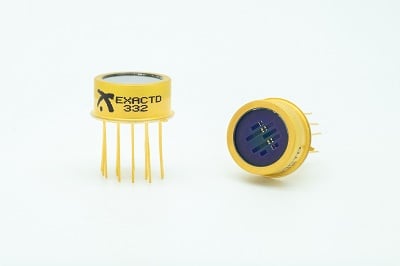 Source: Excelitas Technologies Corp.EXACTD-332 module makes use of 5-element silicon and indium gallium arsenide detector arrays assembled in a sandwich configuration, in conjunction with a 3-bit digital Gray code mask used to convert the incident laser beam AoA into a 3-bit digital pattern. Each module features two isolated arrays providing individual high- and low-sensitivity channels.
The first array exhibits high quantum efficiency over the full wavelength range, while the optical signal is attenuated optically before reaching the second array by about 15 dB, further extending the dynamic range for detection of high-power laser pulses. The 3-bit Gray code design allows encoding of incident AoA with an angular resolution of ±6°, in either azimuth or elevation depending on the module's orientation, over the ±45° field-of-view (FoV). Three reference channels, illuminated for all incident angles, are provided in each array for baseline signal level determination.
The new EXACTD-332 module will be featured at Excelitas booth # H2-904 at DSEI, September 14 to September 17, 2021, at ExCeL London.