A new series of miniature servo drives from Spain-Based Ingenia, which are reportedly the smallest and most powerful, with the highest power density in the smallest profile possible, are now available.
The Ingenia Capitan drives weigh just 18 g and are 10.3 mm high, and can deliver 10 A of continuous current, operating from 8 V DC to 60 V DC supplies.
Advanced power control and fast current and servo loops, combined with pulse width modulation frequencies up to 200 kHz, are reported to offer best-in-class performance. Efficiency is up to 99% and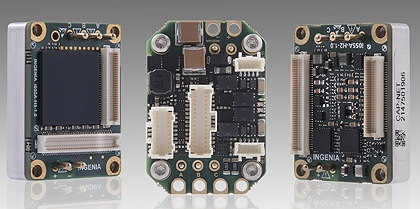 Source: Ingeniastandby power consumption is as low as 1.12 W, reducing heat generation.
The drives support multi-axis applications using EtherCat (with a bus latency down to two cycles), CANopen or high-speed SPI bus communications, with command update rates up to 20 Hz. The low latency is said to optimize responsiveness.
Multiple drives can be linked via a fieldbus to create multi-axis systems, and can be mounted close to axes, cutting wiring costs and installation times. The drives can be used with various types of motor including DC brushed and rotary brushless machines and are designed for applications such as robotics, autonomous vehicles, flat actuators, end-effectors, exoskeletons, gimbals and haptic systems.